Only one political club remains this fall
Hang on for a minute...we're trying to find some more stories you might like.
This fall only one of the two political clubs remains at large within the school, the Young Democrats. Many of the Young Republicans' main characters graduated last year, leaving their fellow conservative underclassmen floundering without leadership.
The two politically centered clubs arose during the spring of the 2015-16 school year in the wake of the presidential primaries. The Young Democrats and Young Republicans mostly met separately, but met together monthly to hold debates. They also worked together on service projects, such as their fundraiser for Toys for Tots during the holiday season last year.
Senior Maggie Jones said, "We were actually at an Amnesty booth and she [Corri Gardner, former president of Young Democrats] asked me if I would like to join a club that she was making and it happened to be Young Democrats."
Similarly to the Young Republicans the former presidents of the Young Democrats, Corri Gardner and Brian Japp, graduated last year. However, the Young Democrats had elections toward the end of the school year to elect new presidents, Vice Presidents, and other officer positions within the club to continue their legacy. This year's presidents of Young Democrats are Catherine Clements and Adam Johnson.
"
We were actually at an Amnesty booth and she [Corri Gardner, former president of Young Democrats] asked me if I would like to join a club that she was making and it happened to be Young Democrats."
— Maggie Jones
Senior Flora Sherr-Nelson said of qualifications for club presidency, "You have to be open to other people's opinions because if you're going to be representing an entire group I don't think you can be really close minded like obviously you can oppose things but like if we're going to be doing like debates with people that have different political views you have to be able to talk to those people without starting an argument."
Last year, the Young Democrats and Young Republicans met together in the media center once a month to have debates on various topics. These debates, which were notorious for sparking controversy, drew crowds of students to watch and listen to their fellow students discussions.
"There's never any real winner but I think it's just a way to get out what you're thinking about the political situation in our country because there's not really much that we can do about it… it's a little disheartening to be a teenager in that political climate because most of us can't vote but if you're able to state your opinion in like a debate setting it makes it feel more like you know your stance and like if you were ever able to do something you would know where you stand on it," Sherr-Nelson said,
Though many people have expressed interest in starting the Young Republicans up again and many rumors have been circulating about whether or not the club was already having meetings this year, it is uncertain whether or not the club will continue. The general consensus among the Young Democrats though seems to be that they would love to see the Young Republicans continue so that they could continue having healthy debates together.
"Yes, I really think they should so that we could do things together and show that even if people have political differences they can work together, and then we could also debate them and that's really fun, and inform others," Jones said of the Young Republicans.

About the Writer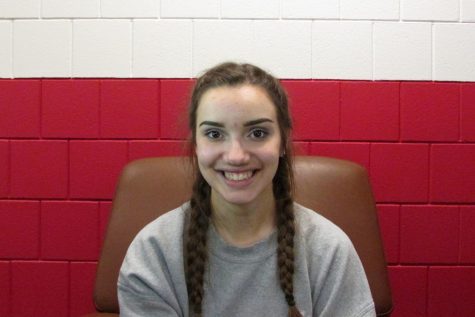 Hannah Sween, Editor-in-Chief
Hannah Sween is a senior and a Print Editor-in-Chief for the Stillwater Pony Express. When outside of school, she enjoys a variety of dance styles, but her favorite is Irish dancing.  Hannah has been competitively Irish dancing for an impressive 11 years!  In the high school, she participates in the tennis team, Amnesty, and NHS.  Also, she plays the flute in the school band.  This year, she is the Social Chair for the Young Democrats.  Her favorite cookies are her Grandma's homemade molasses cookies.