Boundary changes enforced due to potential school closings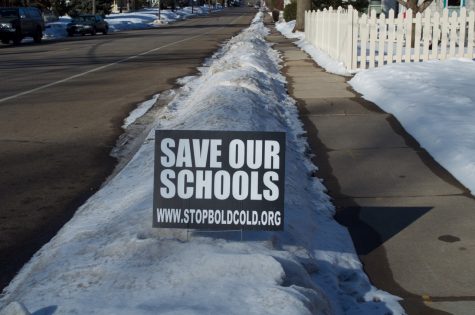 The familiar topic of Marine, Withrow and Oak Park closing in 2017 has been of discussion for over almost a year, and with new boundaries being enforced, there has been recent controversy.
The 834 District School Board approved a Contingency Boundary Plan on Nov. 10, 2016, that changes boundaries for each town in the 834 District. This will dramatically change bus routes, classroom sizes, and which new schools the three closing schools will move to. As of now, Marine and Withrow students will move to Stonebridge Elementary, and Oak Park students will move to Andersen Elementary.
Students across the district are going to be impacted by the boundary changes.
Sophomore Matthew Lamers said, "I do not believe there is a valid reason to change the middle school boundaries. For example, my brother, Anthony, attends Oak Park Elementary. Anthony and I live on the north side of highway 36. One of Anthony's friends, who also attends Oak Park, lives on the south side of highway 36. With the current boundaries, both would attend SJHS/Stillwater Middle School."
He added, "My brother and his friend would be separated all the way until high school. Also with attending a new school, it requires him to make some new friends (after being separated by some). Attending a new school will even affect his health (a little)."
Most parents and students in the district are in support of Stop Bold Cold, which is a community-run organization which campaigns the opposition of the proposal to close the three schools.
"
This one thing we're doing [closing three schools] is the first step."
— Denise Pontrelli
Sophomore Mason Hayden said, "I think the changing of the boundaries are unnecessary and only disrupts students and their education. Putting students in environments with new people they have never met will not help their education in terms of if they where in a comfortable environment they could focus on their education."
Boundary changes will also largely affect the two junior highs in the district; Stillwater and Oak-Land. More and more students are and will be enrolling at Stillwater, and Oak-Land's student population is decreasing, and will continue to by the 2017-2018 school year.
Additionally, the closings of the schools and adjustments to boundaries are mainly due to budget, and decreasing costs in one area, so we can increase costs in other areas that are, as of now, more important.
Superintendent Denise Pontrelli said, "This one thing we're doing [closing three schools] is the first step, it's not going to ease all of the budget needs that we have. We have to look at our athletics and activities. We have to look at our staffing. Just about every area of our system we have to review and look at if we are being effective and efficient. Those are all costs we have to  look at. We have to increase costs in one area and decrease costs in another area."