Clown sighting trend spreads fear across Minnesota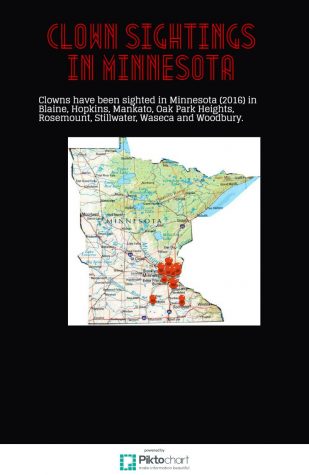 Clown sightings have been the new craze all across America in the past couple of weeks. There have been arrests, threats, schools have shut down and fear has spread everywhere. Should we be taking these clowns seriously, or are they just teenagers spreading mass hysteria?
The first sighting was in late August of 2016 from a little boy in South Carolina and after that, there was a sighting in Wisconsin. Clowns have been spotted with weapons and have even chased people. There are many theories as to why they are doing this but no one knows for sure yet.
Some common explanations are that it is a social media fad, marketing for a movie coming out at the end of October, or just teenagers goofing around. Whatever the reason behind it is, it has become very popular all over the nation.
Everyone seems to have a different opinion about this topic. Some say it is for real and others think it is just for likes on social media.
Junior Kayla Brown said, "I think the clowns are real, and it's scary. There are a bunch of creeps out there; clown attacks can happen."
Clowns have been spotted near schools in Minnesota, and reports on the internet have shown them chasing cars after dark and offering candy to kids. There has been one death so far associated with the clowns, a teenager wearing a clown mask in Pennsylvania was stabbed to death by a grown man. The 29 year old man who stabbed him has been sentenced to jail with first-degree murder charges.
Senior Jessie Gosso said, "I heard that someone killed a clown, but we shouldn't harm each other. This country has enough problems without the clowns."

Loading ...
This clown epidemic is yet again another example of mass hysteria, similar to when kids were scared of Slenderman. The clowns have spread through America so quickly and are now being spotted in other countries like Canada and Sweden. They have become popular through the media, and continue to pop up everywhere. One of the factors that goes into mass hysteria is being stressed out and so in response, our minds come up with possible explanations as to what is happening.
Psychology teacher Roger Stippel said, "I think number one, personal insecurity. The people that are going to be drawn into that hysteria are the people that aren't really grounded solidly through family, through faith, things of that nature. So I think when these things like the clowns happen it reminds us that we do have a great deal on instability in our culture."
There have even been sightings in Washington County. Clowns have been seen in Stillwater, Woodbury, Oak Park Heights, and at Rutherford Elementary School. Other recent sightings have also come from Hopkins, Rosemount, Mankato, Blaine and Waseca. Students from our own school have seen them proving that they are around.
Gosso said, "I cried, I do not like clowns and I didn't believe they were here in Stillwater until I saw one. I saw it on a motorcycle on highway 36 by the river."
Stippel said, "Kids might see this as an opportunity to create a hoax, to create more publicity and more hysteria. Unfortunately, we probably aren't done seeing this for a couple of more weeks until it's run its course."
About the Contributor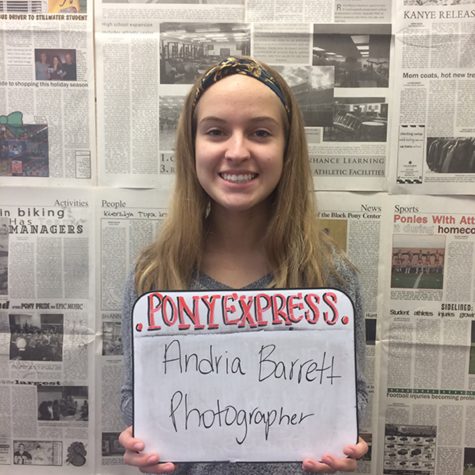 Andria Barrett, Photography Editor
Andria Barrett enjoys hiking and all things outdoors with her friends and family. She has two dogs and one brother that live with her in Afton. In her...