Amnesty club holds Hygiene Drive for local charities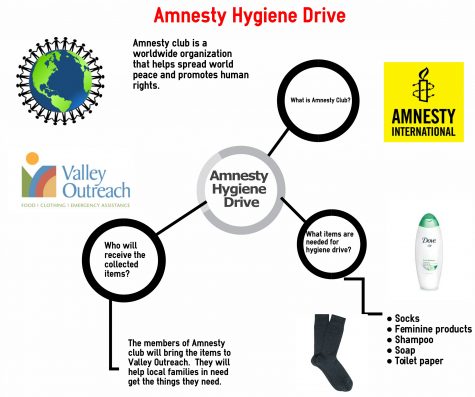 The Amnesty International Club will host a hygiene drive at school toward the end of October. Items will be brought in to help local families in need of personal products. Donations are not required, but are much appreciated.
The week after MEA break, students will be collecting hygiene items.
At the end of the week, members of Amnesty International will combine all the items together and bring them to Valley Outreach, a community-based organization that connects problems of the present and the fix for the future. They provide local families with clothing, food, and financial assistance.
Amnesty International is a global movement that promotes human rights and fights for people injustice. It works to help people internationally through peaceful awareness.
Senior Anna Scheel described, "A club that stands up and fights for human rights on both global and local levels."
The Amnesty club at school founded a policy approved by the school board that prohibits the school district from buying from companies using sweatshop labor.
"
It goes back to the community, and it's easier for 50 people to bring in one item, than it is for one family to go buy 50 things."
— Bridget Smith
Although Valley Outreach collects many things, they are always in high demand for personal hygiene products. This is why Amnesty club has decided to focus on that and run just a hygiene drive. Necessities like shampoo and socks are the things they have in mind.
Senior Bridget Smith explained, "It goes back to the community, and it's easier for 50 people to bring in one item, than it is for one family to go buy 50 things." She added, "Mainly, we need socks, feminine products, shampoo, soap, and toilet paper."
Bringing in these items will help in a big way. Local families really need these products, the donation of one bottle of soap may seem like a small gesture, but it's not; it can help a family stay clean for a long time.
Smith said, "You should bring in your hygiene products because it makes people who can't afford them feel more normal." Personal hygiene is something everyone deserves and needs. Unfortunately, some people can not afford to by the things they need to maintain this.
Help out local families in need by grabbing one extra bag of socks at the next Target run, or even look in the cupboards for unused shampoo or soap products. Mark the calendars for the week after MEA. Give back to the community and help a local business stock their shelves.
About the Writer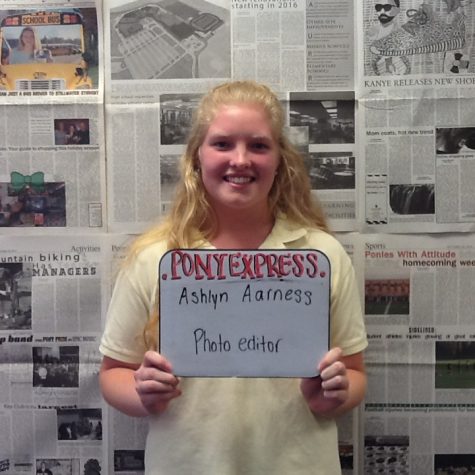 Ashlyn Aarness, Photo Editor
Ashlyn Aarness is a junior.  She sings in the Stillwater choir.  She enjoys biking and going for walks with her dog.