Jordan announces coaching retirement

Coach Randy Jordan has had a great career. He recently told athletic director Ricky Michel that this would be his last season. Jordan thinks time has come for him to begin the next chapter of his life. He has decided he wants to retire and move on to new things.
Jordan has coached basketball for 35 years. The players liked the way he pushed them to do their best. He also taught the kids for life, not just basketball. Jordan wants to become an administrator. He wants to be either an assistant principal or become an athletic director.
Jordan has had a long and successful career with a 114-80 record with the Ponies.
Jordan explained why he decided to retire, "It was based on a lot of things. One thing being that I have coached for 35 years, I want to try new things. I want to be an administrator and I knew it would be hard to do that and coach basketball, I thought it was time to pursue a new goal."
"
I want to be an administrator and I knew it would be hard to do that and coach basketball, I thought it was time to pursue a new goal."
— Randy Jordan
Some coaches like to put more time in to the game than others. That can mean the difference between winning and losing.
Captain Wyatt Blinkhorn explained what made coach Jordan different, "He compares to others because he puts more time in the game than any other of my coaches. He puts a lot of time into preparation. He was the most caring coach I have ever had."
Basketball was not always important to coach Jordan. He believed that school was important and if a player had bad grades they would not play.
Captain Adam Bruggers said, "He has been a good coach to me. He has taught me things more important than basketball, such as school and family. He stressed the importance of grades and if we didn't meet grade expectations, you didn't play."
Spending as much time as Jordan spends with all the kids, it would be easy to develop a relationship with all of the kids that he has come to meet throughout the years.
Jordan explains what he will miss the most, "Probably the relationships you make with the children, over 35 years you build a lot of relationships. We shared common interest in the game of basketball. I will probably miss the practices more than I will miss the games. I will find new ways to build relationships with being an administrator with all the kids, not just basketball players."
Playing basketball is a time consuming sport. Players spend a lot of time with the coach, building a special, personal bond.
Blinkhorn said, "He has had a major impact on me, he is like a second father. He didn't just teach me basketball, he taught me other important things that will help me for life."
Jordan will continue to work in the classroom and work with the kids until a new opportunity pops up.
Jordan explained what he plans to do after retirement, "I'm going to continue to teach until I can become an athlete director or become a assistant principal, but until then I'm going to continue teaching and working with kids."
There a lot of memories that the players had with the coach, but some stick out more than others.
"My favorite memory is the five overtime win over cretin at home. It was an unbelievable game," Bruggers said.
About the Contributor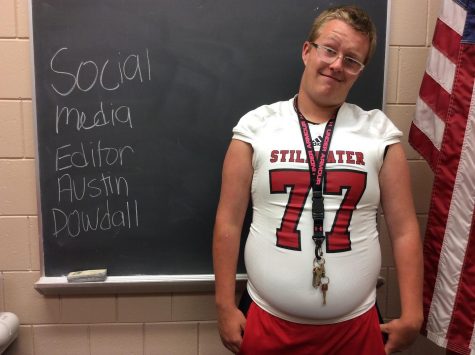 Austin Dowdall, Social Media Editor
Austin is a junior at Stillwater Area High School. He plays football for the Ponies. He likes to watching football on Sundays. He also enjoys to kick back...