Yoga trend has students bending over backwards
Students are always looking for fun and new ways to stay fit. For students who do not participate in sports, exercising is often a difficult task. Yoga is a different way for students to relieve stress and to get some physical activity.
The practice of yoga was developed around 5000 years ago by the Indus-Sarasvati Civilization in Northern India. Since then there have been many different branches and types of yoga that have traveled to and become popular in the U.S.
Yoga is a way for students to stay fit, increase flexibility and to relax. There are many different types of classes that someone can take depending on their experience and what they are looking for.
Many students who quit high school sports look for a new way to stay in shape. Senior Elise Hendrickson decided to start doing yoga when she stopped playing soccer.
"I wanted a more positive way to stay in shape, I wanted to continue a lifestyle that would benefit me for my whole life," Hendrickson  said.
"
I wanted a more positive way to stay in shape, I wanted to continue a lifestyle that would benefit me for my whole life."
— Elise Hendrickson
Senior Marya Redmond began doing yoga after she quit dance. "It's really nice coming from a high demand sport of dance to something more relaxing but equally as difficult," Redmond said.
Yoga is a viable choice for anyone who is looking for a different way to get exercise. While doing yoga, there are many different muscle that are being worked on than there would be in other exercise options. It is also a very good way to relax and wind down at the end of a long day, while still getting a workout.
"Some classes are extremely difficult. Many people come in expecting a very low-key and easy class and they all leave like holy crap I'm dying," Redmond said.
The most commonly practiced type of yoga in the West is Hatha yoga, which has many different styles of classes that can be practiced.
"I prefer a traditional level two Vinyasa flow classes as well as Barre yoga.  Even though Barre isn't necessarily a yoga class, the spiritual idea of connecting with your body still plays a huge role throughout the class," Hendrickson said.
Yoga is different than other workouts because in any given pose, your body could be working more muscles than it would while working out at the gym. Many people believe that yoga is just stretching. Yoga is a combination of exercising the physical self, along with the mental and emotional self.
"Even if you're not spiritually connected, it's a great way to relax, to stay in shape and to build muscles that you don't normally build, also to increase flexibility and range of motion," Hendrickson said.
There are many different health benefits of yoga. Some include, improving flexibility, building muscle strength, improved posture, helps increase focus, improves balance and so much more.
Another benefit of yoga is that it helps to create a deeper sleep, "Yoga can provide relief from the hustle and bustle of modern life," wrote Timothy McCall, M.D. from Yoga Journal. "Another by-product of a regular yoga practice, studies suggest, is better sleep—which means you'll be less tired and stressed and less likely to have accidents," McCall added.
Practicing yoga could be beneficial to anyone, of any age. Yoga attracts many students who have stopped participating in sports who need a form of exercise in their life. Yoga is a way to relax while connecting the physical and mental aspects of the body.
About the Writer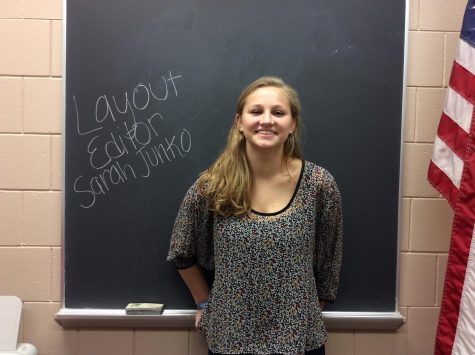 Sarah Junko, Layout Editor
Sarah Junko is a senior. She spends her time volunteering in the special education and kindergarten classrooms at Oak Park Elementary. She works at Nelson's...