Team managers help coaches get organized
Dylan Foster, Read and Watch Field Reporter
November 18, 2015
Every high school has its sports team and every sports team has its coach. However, if a coach needs an extra hand for the team, they may hire a team manager, sometimes an adult and other times a teen.
A sports team is a hard time to handle on its own especially  when it is a high school team which consists of many players who need to be tended to. The coach of a team may elect a manager, who can be used to get the team water, set up fields, and so forth. Some teams use teens in an actual "team manager" position. Others like the Nordic ski team use their team captains as their managers.
On some teams, a team manager is a team manager and on others they may be a team captain who also assumes the role as a manager. Bill Simpson, head coach for boys and girls Junior Varsity nordic ski team, is in his 38th year of coaching. He uses the captains as his team managers.
Simpson said, "I like our model in which the captains fulfill the role of team manager." The Nordic team doesn't have any official team managers as Simpson said, "We don't have team managers in Nordic. We depend on boys and girls captains, working with the coaches, for most of our activities and events."
Simpson added, "I really think it [team management] is coach and sport dependent. Some coaches depend very heavily on a team manager, others seem to do just fine without a manager."
Team managers have differing jobs for each and every sport. Former wrestling team manager and junior Trevor Hendry did many different tasks for the wrestling team. Unlike the Nordic team, Hendry began the season wrestling, but later suffered a season ending knee injury.
"My options were to continue wrestling and risk further injury, which could have affected my track season, so instead I just went with the brace and managed to save my track season," Hendry said about his knee injury.
Hendry said that he would, "Help clean the mats and help with the water for the most part. You also helped take scores and things of that sort."
He added that, "It was kind of upsetting cause I knew I could not wrestle anymore but at the same time it was just fine. It was a different aspect of the whole thing. It was fun, but it was not the same as actually being on the mat."
"I love wrestling but track is my preferred sport. They're both very fun but in the end I'm happy with my decision," Hendry said, about his decision on managing to save his track season.
Some managers are technically captains and some are former players with injuries but some are volunteered students who choose the management position. Whether they were asked by friends to do the job or recommended by the coach, they dedicate their time to helping out the sports team.
"I just wanted to help out the teams. After we did football the guys that also played lacrosse asked us to manage for them," said Riley Yeary, senior and team manager of the boys lacrosse and football team.
Similarly to the other sports, she added, "For football we attended practices and filled up waters as well as at the games. We helped set up whatever the coaches or players needed help with."
About the Writer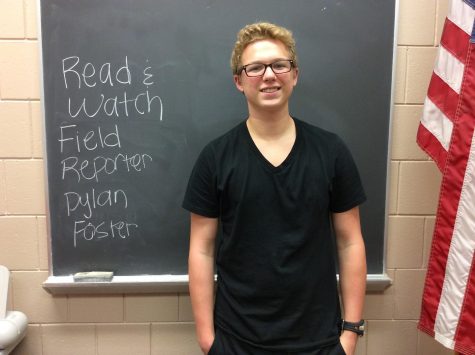 Dylan Foster, Read & Watch Field Reporter
Dylan Foster is a handsome, intelligent, caring, easy-going, seventeen year old junior student attending Stillwater Area High School. Often seen hanging...