Romportl auditions for All-State
Hannah Weegman and Calli Clay
In people's minds, all-state in any sport is a huge achievement. This is also true for the music department and all the students. Just like throwing the ball or whacking a puck, playing the strings is not a simple thing.
On March 20, junior Teresa Romportl will audition for the all-state orchestra. Music teacher Gerard Jones recommended her to participate and asked her to represent Stillwater Area High School as she expects to compete against the best in the state. She has played her whole life and is looking forward to this great opportunity.
"I started in kindergarten. My uncle owns a violin shop and he gave it to me as a toy, but then I signed up for lessons," said Romportl.
Growing up playing the violin her whole life, she has became strong in every aspect of playing. She loves playing because it has been a part of her life for 12 years. She loves making people smile through her music and bringing joy by just listening. People are enthusiastic about her abilities and always want to hear more. She has formed into a great musician in every aspect of playing, from reading sheet music to teaching and helping others. She has evolved into a leader of the orchestra and many people admire how she plays and her passion for it.
"I think she's a great leader! She's always a strong player and continues to help push everyone else to get better," said junior Maddie Karr.
With leadership comes responsibility and she handles it perfectly. Planning for the future, she plans to hopefully get a nice scholarship to a college of her choice through the music department. She also plans on finding a career in the music industry or field. This drives her to be better every day and learn something new every day. She has great goal in mind and hopes to be able to accomplish them as soon as possible. It has been a huge part of her life for the past 12 years since she picked one up as a toy and now she is on the big stage to see how she will perform under pressure.
"
She plays every day with heart and never wastes any time. She's always focused and has her goals in mind."
— Maddie Karr
If she does make the all-state orchestra, she will have the privilege to attend a week long concert at St. Ben's University, and after perform in February at Orchestra Hall. This is one of the greatest achievements a high school orchestra musician can have, and she has the opportunity to take it and run with it.
"I have confidence in her because I know how strong of a player she is and how dedicated she is to being very good at what she does. She will do great," said senior Nick Wanovich.
Romportl's expectations are high and she thinks she has a great opportunity to show off her ability to judges and even colleges all around the country. This opportunity does not come around many times and she expects to take it and run with it.
About the Contributors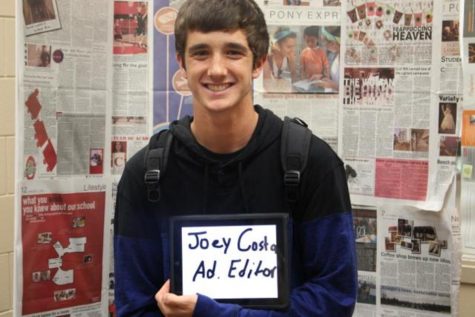 Joey Costa, Advertising Editor
Joey Costa is a 2016 graduate who lives in Stillwater with his mom, dad, sister and three dogs. Football and year round baseball mainly use up his free...