Varsity basketball team adds win after win
Joel Lange and Mason Fischer
The Ponies basketball team did not start the season the way they wanted to, due to many setbacks ranging from defensive issues to the loss of players.
At every high school sports game, hundreds of people show up to watch the Ponies play. Stillwater is a sports-orientated school, and students are eager to cheer on the varsity teams around the school. Among all the teams at our school, the basketball team shines with glorious wins.
The team started off the season with one win and four losses. The team was missing some of their key players, and could not function correctly without them.
"We started off rough because we lost some of our best players," said junior Wyatt Blinkhorn.
Including the problems with players, the team had a weak defense at the start of the season to some unfortunate losses that could have been avoided.
"They started to realize the importance of playing defense," said head coach Randy Jordan.
Although the team had a few setbacks, Jordan was able to pull the team through. The team is now on a five-game winning streak, and wishfully, adding more wins.
"We have a good mix of big guys and guys that can shoot. They are really starting to come together," said coach Randy Jordan.
Jordan has been a great tool for the success of the Ponies for 10 years as their experienced head coach.
"This is my 33rd year of being a varsity basketball coach," said Jordan.
In addition to Jordan, the Ponies seem to have changed they way they play a lot in the past few weeks, leading to their success.
"They started to realize the importance of playing defense," said Jordan.
Alongside all the effort to fix the defense and getting players back into the game, Jordan has been pushing players to greatness by running practice drills he knows to be effective.
"In practice we do the same stuff we have worked on for years," said Jordan.
The basketball team has had some spectacular successes this season, including huge home game wins and miraculous feats from star players.
"Beating Buffalo at home by 25, that was a good win," said senior Matt Anderson, who also scored his 1000th point in his varsity career right before Christmas.
Having only played 11 games, the team is far from being done with all of their challenges.
"We play a 26-game season," said Jordan.
For many players, game preparation come with a lot of practice, determination  and game day rituals.
"Before games, I go to Jimmy Johns," said Anderson.
The team includes many players from around the school, but one group seems to be more prominent, and that includes their top three scoring players.
"We're basically a senior dominated team this year," said Jordan.
The team has had lots of struggles, and many more will follow. The team is focused on winning and becoming a better team through playing hard and working together. Anderson is averaging 17 points a game and is well on his way to breaking the varsity point record. The rest of the season will hold incredible wins and painful losses. Hopefully, the Ponies can pull together a winning season, go to state and boost school moral.
About the Contributors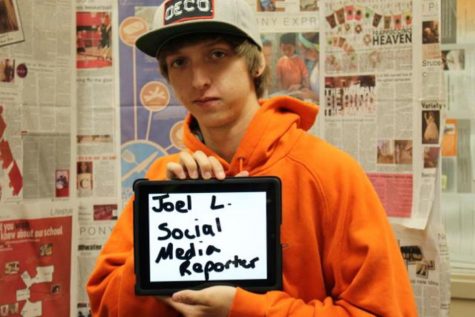 Joel Lange, Social Media Reporter
Joel is a junior here at SAHS and this is his first year on the Pony Express staff. He enjoys riding his bike in BMX shows with the Twin Cities Fantasy...