Gymnastics team springs into new season
Flying and launching bodies through the air. Twisting and turning using all the strength they have. With tryouts over and daily practices in full swing, the gymnastics team is working hard in the gym perfecting routines to prepare for a successful season.
Last year, the girls gymnastics team won fourth in their conference and fourth in sectional competition. This year they are looking to improve on those results. Gymnastics rules are adjusted every two years, as gymnastics is an evolving sport. This year is the first year of a new rules cycle, so there are a few changes that the Ponies have to adjust to.
"Our goal is always for all of the girls to improve their skills and competition throughout the season.  In other words, for all gymnasts at all levels to improve," said Traci Swenson.
The gymnastics team lost to Mahtomedi last year during sectionals and have had trouble beating Roseville for many years.
"Mahtomedi is definitely the team to be beat this year," said junior captain Alex Holmberg who has been on the team since eighth grade.
"If there's one rival team we want to beat each year, it's the Roseville Raiders," said senior Natalie Jantschek.
Varsity girls gymnastics have their first meet Dec. 4 at Cretin-Derham Hall High School. To prepare, the team practices hard in the gym Monday through Saturday for three hours each day, working on new skills and routines with varying levels of intensity.
Swenson said, "Although I am a high school league official, we always bring in a judge prior to our first meet to provide the gymnasts and coaches with feedback about how we can put together routines to maximize each girl's score potential on each event."
Jantschek, who has been on the team for six years, hurt her neck and shoulder going into senior year and will be sitting on the side lines offering support and motivation for the girls this season, making sure everyone gets along and has a good experience.
Jantschek said, "Our main goal this year is to be a nice, cohesive team and be the best we can be, while having fun at the same time. We try to be as productive as we can, but we still have fun while doing it."
This year, the team lost four varsity competing seniors and openly welcomed five new girls to the team.
"There are many new girls to the team due to the loss of seniors. Many of them are young and I look forward to what they will offer to the team this year," Holmberg said.
The new girls will hopefully add to the success of the team this year and in future years as they grow to become stronger gymnasts.
"We are very excited about our returning athletes and our new additions," Swenson said.
This season the girls elected three captains to lead the team in hopes to succeed farther in sections than last year.
Senior captain Marleigh Wise said, "As a captain I work to set an example and motivate the team to perform the best they can. All the captains are there to connect the team to make sure we are there for each other and support each other everyday."
The 2014-2015 season of gymnastics will be full of new routines, new skills and new members with the hope of making this season the best one yet, full of team spirit and hard work.
Swenson said, "I am proud of all the girls' successes both in and out of the classroom.  I am proud to see them support each other, cheer for each other and develop life-long relationships."
About the Writer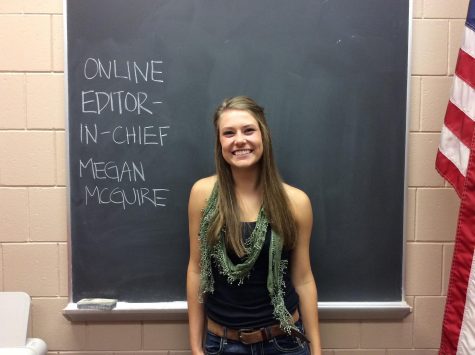 Megan McGuire, Online Editor-in-Chief
Megan McGuire is a 2016 graduate at Stillwater Area High School. She plays lacrosse and loves watching hockey. Enjoys fishing and anything dealing with...