Gymnastics captains ready for a great season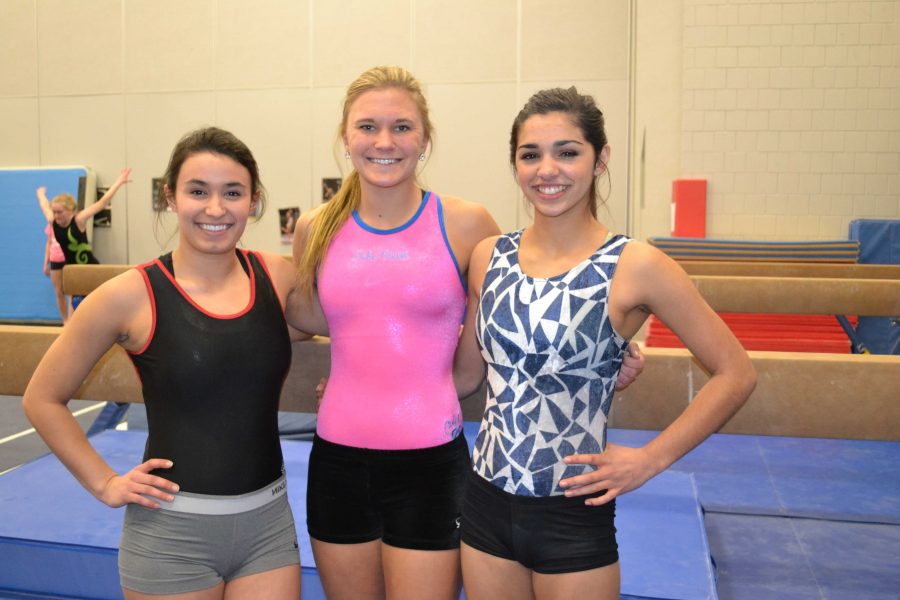 Every sport has captains, but each captain is different in some way. Whether it is their strategies, hopes or competitiveness, the Stillwater gymnastics captains are ready for a noteworthy season.
The gymnastics season officially started Nov. 11. There are 19 girls on varsity and junior varsity. The captains are senior Sidnee Ronsberg, senior Thalia Anderson and junior Natalie Jantschek.
The gymnastics team has a hectic schedule and demands commitment from everybody.
"I don't think people realize how vigorous, demanding and time consuming gymnastics really is," Ronsberg  said. "We have practice Monday through Saturday for three hours every practice. Meet days are Thursdays and Saturdays. Thursday meets, we start warm ups around 5 p.m. and are completely done with cleaning up or arriving back to the high school around 10 p.m. Saturday meets are all day. We leave the high school no later then 7:30 a.m. and arrive back home around 6-7 p.m. at night. During practice we work on perfecting our current skills and routines and work on new skills to increase the value of our routines."
On top of performing the sport, the captains have additional responsibility working with the team.
Ronsberg explained, "We are responsible for being at everything team related as possible. We have meeting with the coaches and parents, we are in charge of running captain's practices, designing the clothing and picking out clothing and leotards for the season. We assign the big sister and little sister, pick what we are going to wear to school on meet days, find who we want to do our pictures through, have to work with everybody's money when paying for things and last but not least, we need to be great examples for the other gymnasts."
To prepare for their competition, the captains begin the season by leading captain's practices. They work on skills while incorporating some fun.
"The two weeks before season started we had captains practice on Tuesdays and Thursdays. We tried to make it fun by including games into the conditioning. It was also a good bonding time for the team and it helped with meeting our new teammates," Anderson said.
Coach Traci Swenson has great expectations for the captains when leading their team.
"We look for leadership, positive attitudes and organization in our captains.  They have many responsibilities both during the season and in the off-season, and need to work with the coaches and the other gymnasts throughout the year," Swenson said.
The captains bring a variety of qualities to the team.
Jantschek explained, "I bring energy to the team and I always like to play games with the little girls. I like to bring the team together so we all work together and improve. I attempt to work hard and keep everyone motivated."
"As a captain I try to bring positivity to all practices and setting a good example to all gymnasts," Anderson said.
Ronsberg is committed to helping her teammates improve.
She explained, "I would like to think I am a great leader, I am assertive and nice at the same time. I love to help others so during practice I am constantly helping my teammates with little things that will help them improve their skills. I also think I am very fun so I bring that to the team as well. When ever someone is having a bad day or is sad or mad I like to cheer them up."
Aside from practice, the girls plan many team bonding opportunities.
Anderson said, "The first weekend of season, it's tradition to have a team sleepover. We go sledding, tie dye clothing and also have pasta dinners throughout the season."
During meets, both Ronsberg and Anderson compete in multiple events.
"I compete in vault, bars and floor. I think vault or bars is my best, depending on my day," Rosberg said.
Anderson said, "I compete in all events mostly. I think my best event is floor."
Swenson has confidence in her young team.
"We graduated three strong gymnasts last year, and lost another one who needed to solely focus on academics this year, so we had a lot of experience to replace," Swenson said. "We have a great group of girls, though, who have stepped up into those varsity roles and are working to increase their difficulty to raise our score potential.  We have a very tough conference and section, but we always work to have consistent improvement throughout the season, and this year will be no different."
The three captains bring strong experience in all events. They are determined to be successful in the season ahead of them.
About the Contributors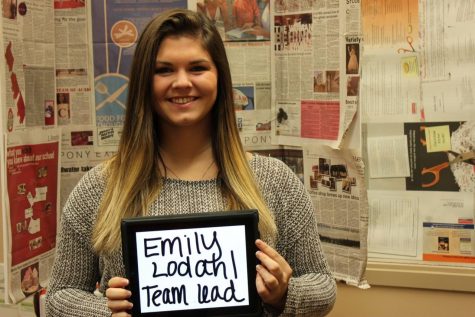 Emily Lodahl, Team Lead Editor
Emily Lodahl is a senior team lead editor for the Pony Express. She has been in newspaper since eleventh grade and loves every minute of it. She has played...