Football continues the legacy of 'giving is receiving'
Led by the motto "giving is receiving", the Pony Football program has a proud tradition of helping out the Stillwater community. The program creates and hosts opportunities meant to help players develop a "lifelong understanding of the importance of service".
"It's more than just learning your position playing football," Shawn Stephens said, junior and varsity football kicker. "It's about helping out your community around you."
Student football players commit an enormous amount of their time and passion to football and are held to high expectations. Head coach Beau LaBore, explained, "They're worried about school and football and their personal lives, but numerous times throughout the season, they're willing to give of themselves to other people."
Two of the events hosted by Pony football are Adaptive Football Day and Pony Youth Football Camp.
The Adaptive Football Day is an event where students with special needs throughout the district are invited to experience the joy of playing football alongside the varsity high school players. Students get to know each other, practice fundamentals and play football together. LaBore said that it is a day of smiles every year.
"It gives me a greater appreciation for what I have and the opportunities that I've had," senior Bennet Peterson said.
Pony Youth Football Day is a camp typically held in the first week of August and is taught by LaBore. Dozens of varsity players assist LaBore is teaching elementary students football fundamentals and how football can help them become better people. The camp is a way for high school players to give their knowledge and experience to the future generations of Pony football.
"It hopefully lights a fire that someday, when they are fathers, they'll take the time and effort and believe that giving is receiving to coach youth football and keep giving back to the game," LaBore said.
One particular event holds a special place in LaBore's heart. He grew up with his grandmother, Elizabeth, and was very close to her.
"When she needed to be moved into a nursing home, we made sure that someone visited her everyday," LaBore explained. "And when we visited her, it was all too often that we would see people that just never has any visitors."
"
It's more than just learning your position playing football. It's about helping out your community around you.
— Shawn Stephens
Players visit three local nursing homes annually to "give back to the elderly of Stillwater." They go to talk to and play bingo with the residents. The Ponies Touchdown Club sponsors bingo prizes and treats during every visit. Labore says that staff circles the date on their calendars because everyone looks forward to interacting with young people.
The varsity high school players are not the only ones participating in community service. The sophomore team and their families go around Stillwater neighborhoods asking for donations of money and non-perishable foods for Valley Outreach, a community non-profit organization. This year, the team raised 6,300 pounds and almost $1,000 over four days.
"I like the aspect of being able to get around meeting the people that you're trying to help while participating with your team," Stephens said.
Tackle Cancer with the Minnesota Football Coaches Association
Tackle Cancer has been with Stillwater since 2012. It is a partnership between the Minnesota Football Coaches Association and the Randy Shaver Cancer Research and Community Fund. The goal is for every high school football team to select one home game in September to raise money to "Tackle Cancer" within their school and community.
This year, Stillwater raised $26,435, which is a record-breaking amount. It was all possible due to the leadership and strong initiatives the youth football players took. Similarly, the high school hit its own all-time record during the 5th Hour Challenge.
"The only way that you can raise $26,000 in two weeks is with a community that believes fighting against cancer," LaBore said.
Impact of community service of the Stillwater community
Pony Football and its impact on the community is undeniable. Whether it be spreading the joys of playing football with youth or raising money and donations, Ponies continue to leave an enormous impact on the Stillwater community.
"We hope that we become the best team possible," LaBore said. "Some years that means we're gonna strive to play and win championships but everything else in our program is geared towards [players] using football to represent our school and community. A big part is learning that 'giving is receiving.'"
View Comments (8)
About the Contributor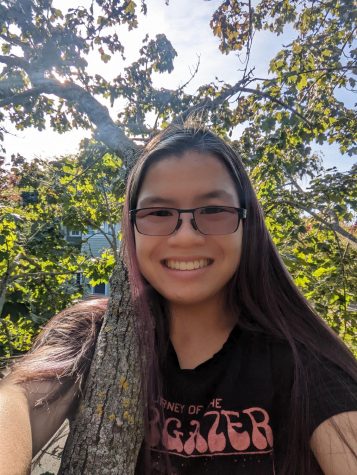 Jasmine Allison, Social Media Editor-in-Chief
My name is Jasmine Z. Allison. I am a senior and am the social media editor-in-chief. I am a co-captain of Varsity Figure Skating and a student leader...