Office hours change to help students succeed
Over the past two years, students have been falling behind in classes, especially this year when students and teachers have to stay out of school for days because of positive COVID cases. It seems like once students get behind there is no way to catch up with missing assignments and tests.  The administration is trying to make changes to office hours so this does not happen this semester.
Students and teachers alike have difficulties with how office hours are run now.  Students stay in their third-hour teacher's room.  If they need to go see a different teacher for help, they need to request a pass in advance to go there.
"I came to the conclusion that it wasn't beneficial to a lot of students. I did hear from students that were using office hours were finding it stressful to navigate, seeking attention, and being able to get to where they needed to be during office hours time because the nature of the hall pass was frustrating to students," Ben Straka, science and astronomy teacher, explained.
Students and teachers both have issues with too many students in a classroom. Students who are in that teachers' third-hour stay there even if they do not need help. It can be distracting for students to get help or take a test. The new system will address this by letting students leave who do not need help, allowing teachers to focus on the students needing aid.
"Teachers have too many students in the classroom and have to differentiate between students who needed assistance and those who did not.  Management of a classroom can be more difficult if there are many students who do not need extra assistance.  The pass system was also difficult for teachers to manage and have enough time to assist students," Principal Robert Bach explained.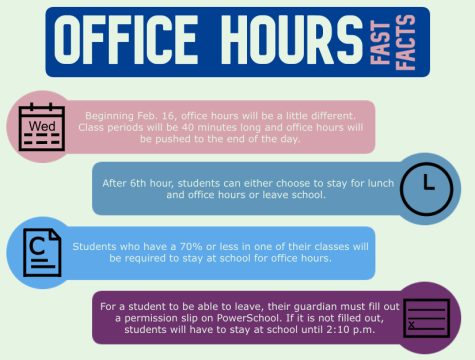 The new office hours system will be implemented the week of Feb. 14. Students will still have shortened class hours. Instead, now office hours will be at the end of the day. Students who do not need assistance from one of their teachers and have transportation can leave. This will solve the problem of students not needing help being distracting for students needing help.
"You're just going to class doing nothing. For me, I like to be productive and have something to do. Then just being stuck in a class even if you'd like to leave," Flora Montcho, junior Student Council member, explained.
The administration wanted to hear teachers' and students' opinions about how office hours are run now and changes they would like to see updated.
A survey was sent to teachers and student council members "to get feedback on the current office hours format and they both reported that changes could be beneficial," Bach explained.
Getting students' opinions on how office hours is working for them is important to students.  Students want to know that their experience matters and deserve to be heard.
"I think administration has started to realize that students' voices matter more than their own and realize that even if they try and do what's best for us, that's not what's best for us," Montcho explained.
The continuation of office hours in the coming years has still yet to be determined. Office hours was created to help students in responds to challenges during the pandemic.
"We will need to continue to look at the data in the coming year to determine if this is a successful way to address those needs," Bach explained.