Varsity girls soccer takes first in MSHSL state championship
The varsity girls soccer team came to play on Nov. 6 taking a 1-0 lead over Centennial in the Minnesota State High School League (MSHSL) Class AAA championship at the U.S. Bank Stadium. The team won over previously undefeated Edina in a 3-2 lead in the class semifinals to get to the championship on Nov. 4. 
The team is immensely proud of their hard work over the past few months. Going up against two teams who they had previously lost to gave them a whole new motivation to come into the finals strong. 
"Our mindset was, just work as hard as you can. That was pretty much the same all year. Our coach Dusty, he would always just tell us to grind. It doesn't matter your skill as long as you're the team that works the hardest out there," senior Ameila Bartosh explained. "We knew we're playing a really tough team in the semifinals. So we're like, if we come out to play, we can shock them and we can beat them." 
The hours of work that the team put in were shown to have paid off. The one goal made during the championship was by junior Nell Smith and was assisted by senior captain CJ Fredcove.
It's a representation of all of the work that the team has done for the past years, whether it's a girl that's graduated, or one that's going to keep going, Bartosh said. The hard work that the team has done and the time and effort that they have put into it, shows that the team worked for it and they got the result they were looking for.
For a lot of the seniors on the team, soccer has been a big part of their lives. Some players have even committed to colleges to continue to play.
"
The big thing is being part of the team and beyond being a part of something that's bigger than myself."
— Hadley Johnson
"For me, the big thing is being part of the team and beyond being a part of something that's bigger than myself. Learning how to have common goals with others and work towards things and get through differences and solving problems on and off the field with my teammates. The main thing for me is just being able to be part of a team and like finding success together," senior captain Hadley Johnson said. "I'm going to Pomona College in California, and will be playing there for four years." 
The graduating members have high hopes for the team's future success. They have a lot of confidence in the younger members to recreate the current positive vibe of the team.
Bartosh thinks if they work hard, and put all their effort into every practice and game, they'll keep improving. "As long as they work as a team, and keep the feeling of what we have created as a team, It'll be a great season next year." 
"After this year, I would just say, anything is possible," Johnson said. "No matter what you see at the beginning of the season, there's always improvement and as long as you have a good team spirit and dedication and effort anything is possible."
Leave a Comment
About the Contributor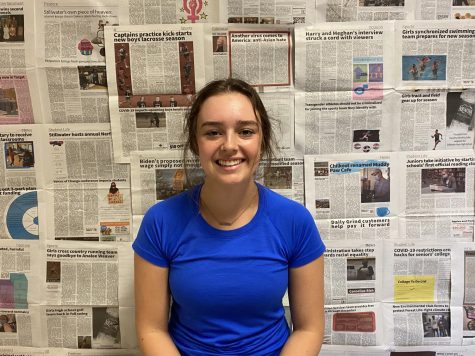 Bella Godfrey, Graphics Editor and Online Editor-in Chief
My name is Bella Godfrey, a 12th grade student. I am a Graphics Editor and the Online Editor-in-Chief for the Pony Express. I do three-day eventing during...