Student Council plans Paint the Town Red, prepares for homecoming
Student Council painted the town red to raise awareness of Homecoming week. Students traveled to local businesses around the area the weekend prior to Homecoming. They decorated the windows with the hope of showing pony pride throughout the community.
Paint the town red has allowed local businesses to form a connection with the student body. Many businesses are looking to expand their networks and see this event as a great way to do that.
Dusty Dennis, student council advisor, organizes this event every year in hopes of providing local businesses with "a chance to meet students in the community."
Unfortunately, due to COVID-19, paint the town red faced some setbacks regarding the event. For example, the energy surrounding the event used to be very strong. Since the community has been without this event for two years, this energy has begun to die off.
Dennis said that the event is not as grand as it once was. People have forgotten about it during these two years. As a result, the school will have to work to rebuild the tradition to what it was over the next couple of years.
​
Businesses in the area had very positive reactions to the students showing up to decorate their windows. Many were very excited to help show their pony pride and form those connections with the community.
"I think both the students and community members had a lot of fun being involved and many businesses felt grateful to be included," Sophia Pietan, senior student council co-president, said.
Unlike past years, the student council decided to call businesses instead of talking to them face-to-face due to COVID-19. This is a big change, as it may have been the reason that business engagement has declined.
"In the past traditionally I've told students you need to go to the business. And that might be part of why our numbers aren't quite as high," Dennis said. "It's kind of a learning opportunity."
Finally, high school students spent around three weeks planning and organizing this event. This event was planned with very little help from adults in the school. High schoolers were able to take initiative to execute this event by themselves.
Amelia Bretl, senior student council co-president said that this event has taken a lot of communication by many different students to put together. For instance, they needed to connect with each business and each sports team to make the event successful. She thinks it is pretty cool that the high schoolers did almost all of the planning and execution.
Paint the town red "gives a connection between some of the student body and the community," Dennis said. "Businesses want to support their high school."
View Comments (5)
About the Writer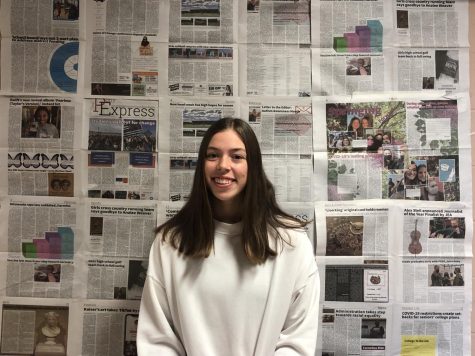 Lauren Guinee, Business Editor and Copy Editor
My name is Lauren Guinee and I am a junior. I am a business editor and copy editor for the Pony Express. I am on the synchronized swimming team and I also...