Law enforcement, not systematically racist
With all of the publicity surrounding the Derek Chauvin trial and the upcoming trial of officer Kim Potter, the integrity of police officers has been called into question. However, the truth is that police officers are not racist, and they do not kill people based on the color of their skin. The Back the Blue movement strives to debunk this stigma and show support toward law enforcement who put their lives on the line every day for people they do not even know.
The Back the Blue movement was created by Act for America and is "focused on building community support for our local police officers." This movement knows that law enforcement is not racist and strives to spread this message. Still, many people believe that police officers are racist, and they see everyone that supports Back the Blue the same way.
Senior Abby Cronk describes that everyone who supports police are automatically seen as racists or hate black people.
Despite a large percentage of the U.S. who disagree with this movement, supporters work hard to thank law enforcement. Especially in recent years, since there has been a tremendous increase in people wanting to ban the police.
"I have two police officers in my family and I know they have been struggling," junior Trent Tillett explained.
FBI crime data reports, paired with other statistics, prove that law enforcement is not systemically racist. These also reinforce the fact that almost all of those killed by police were armed in some manner.
"
The evidence is clear: Policing in America is not systematically racist…"
— Dan O'Donnell
As Dan O'Donnell from the MacIver Institute stated "the evidence is clear" and statistics prove that "nearly every single one of the more than six thousand people (of all races) killed by law enforcement officers in recent years were armed."
According to FBI Uniform Crime Reporting (UCR), black people comprise 13.39% of the population while white people account for 76.52%. However, regarding the top three violent crimes the percentages are far different. Black people account for 53.3% of murder and non-negligent manslaughter, 54.2% of robbery and 33.7% of aggravated assaults. 
White people only account for 44.1% of murder & non-negligent manslaughter, 43.5% of robbery and 61.9% of aggravated assaults. From the FBI UCR data over five million white people were arrested and 0.183% of the total arrested were killed by police officers, while just over 2 million black people were arrested and only 0.147% were killed from encounters with law enforcement. 
These statistics show that not only are police officers systematically not racist, but black people are actually killed at a lower percentage rate than white people. Opposing viewpoints believe that police officers use more deadly force against black people. Despite the FBI statistics above, people still believe black people are being killed at a higher percentage rate per capita than white people. 
This claim is false. Black people account for a higher percentage of total violent crime per capita and are still being shot and killed at a lower percentage rate than whites. The truth is that black people are statistically more likely to commit violent crimes. Committing a violent crime automatically puts someone in a position where police may use force. Not to mention, many of the criminals who were killed either had a weapon, resisted arrest, or tried to flee the scene.
Police officers are not racist. Americans need to appreciate their hard working men and women of law enforcement. They selflessly put their lives on the line everyday to protect innocent Americans.
Tillett spoke for many when he said that "our law enforcement officers will always be heroes."
About the Contributor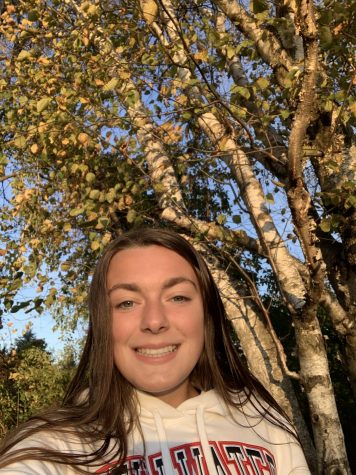 Morgan Delaney, Online Editor
I am Morgan Delaney I'm a junior and an online editor for the Pony Express. I have become very involved in 4-H and FFA. I play soccer in the fall, run...