Brookview Elementary to receive new principal, new classrooms
Brookview Elementary School in Woodbury is set to receive some upgrades for the 2021-2022 school year. This includes the addition of eight new classrooms and a new principal.
Though eight classrooms does not sound like a lot for Brookview's growing class of roughly 500 students, Mark Drommerhausen, the district's director of operations and former principal of Brookview, said they will be significant.
"The eight classrooms will get us about 200 more students of capacity space at Brookview Elementary, which will allow us to do two things: one is to allow us to make sure that all of our classes and learning spaces have a classroom area dedicated to them, as well as accommodate some of the growth that's been happening in the southern end [of] Woodbury […] over the last few years," he said.
The school faces overpopulation issues, which will be alleviated by the new classrooms. Depending on the speed of construction, they are expected to be completed as early as the middle of the 2021-2022 school year, and as late as the beginning of the 2022-2023 school year.
"We had reached our programmatic capacity at Brookview Elementary, so we were looking at the need to expand Brookview with additional classrooms to make sure that we had adequate learning spaces for all of our students from pre-K through 12th," Drommerhausen added.
More impactful is a major staff change for this upcoming year. Brookview has been devoid of a permanent principal during the current school year. However, Christopher Rogers, EdD., who is the interim principal at Afton-Lakeland Elementary this year, will be Brookview's permanent principal next year.
"My heart, my mind, and my soul are happy to have this chance to be the principal at Brookview. Honestly, I am so ready to learn with the Brookview family, and lead beside the Brookview family," he said. "There is nothing like five-year-olds looking up at you every day when you walk in the school with a smile on their faces. The love you get working in an elementary school is like no other. So to have this opportunity, it feels surreal."
Rogers, who earned a doctorate in education, has a background in restorative practices, having worked as a treatment facility manager, being a Level IV special education teacher, and as an assistant principal. He also has a love for culturally responsive teaching, and is a certified equity practitioner. It was his dream at the age of 12 to become a school principal.
"
My goal as the principal of Brookview this upcoming year is to make it the best year yet."
— Christopher Rodgers
"I think these stops towards my dream helped shape me to be the best leader that I could be," he said. "I have a love for restorative practice and culturally responsive teaching. I have been trained in both and saw the impacts it has had on my scholars and on my leadership as a principal and as a teacher. To be honest, I think both are the saving grace in education and both practices should be a foundational tool for all educators."
Rogers is the first black principal and the first principal of color in the Stillwater Area School district. He sees this as an opportunity to be a role model for students.
"There is something to say about being a young, educated, black male principal because it is not something that scholars don't get a chance to see often. […] My position as a principal allows them to see a glimpse into what the future could be for them as they chase their dreams," he said. "For white scholars it also allows them to see a change in leadership and lets them see diversity in leadership as diversity in leadership has the potential to confer unique benefits on white students by preparing them to live and work productively with those from other racial groups and to counteract their exposure to racial bias."
Rogers is well respected and admired by his students (whom he refers to as "scholars") and staff. He has a strong passion for leadership and gets inspiration from the kids he works with. Students at Brookview Elementary are in for a treat in coming years.
About the Writer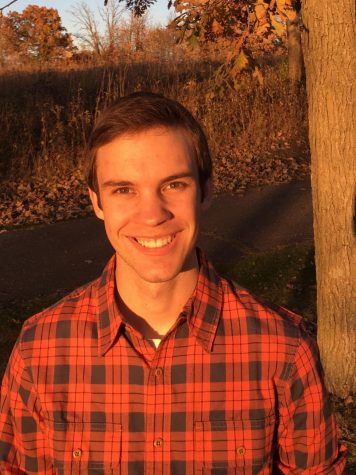 Henry Jansen, Distribution Reporter
I am Henry Jansen and I am a Distribution Reporter in the Pony Express. During the school year, I play tenor saxophone in band. I enjoy railroad photography...