Partnership Plan recognizes and rewards district's most deserving teachers
Teachers are widely underappreciated for the efforts and care many put in to educating. However, the Partnership Plan, a grant giving association, presents a set of awards for teachers who have risen above and beyond the call to duty.
The Partnership Plan was formed almost 32 years ago in 1989. Over that time, they contributed more than $6 million back to teachers and students. Undoubtedly, the focus of the program is to raise money, to then give back to the schools.  
"Our mission is to connect the business community of our area and the students from a monetary standpoint," Executive Director Rick Robbins said.
Additionally, the Partnership Awards are one way the plan gives back to the teachers and the district as a whole. Each year, since initiated in 2006, two teachers from each elementary, middle, and high school, as well as two members of the staff or retired teachers, are selected for the award. Thereafter, each winner is awarded a $1000 grant to put towards the school and their classroom. 
"Sometimes, teaching can be a thankless job," Laura Davidson, second-grade Afton-Lakeland teacher and recipient of a 2021 partnership award, said. "You spend so much time working and doing the best you can for these children, but sometimes you don't feel like you're doing enough. And then to hear parents really are proud of what you're doing and support you, it's like, okay, I am doing a good job, and it builds you up."
Typically, The Partnership Plan raises money through fundraising, sponsorships, and more. One of their major annual nonprofits is Da Vinci Fest, which not only obtains funds, but also highlights the importance of the arts in the community. The money reinvested in schools predominantly pays for the extras, above what students would normally be able to experience.  
"
sometimes you don't feel like you're doing enough. And then to hear parents really are proud of what you're doing and support you"
— Laura Davidson
Davidson mentioned it costs so much money, as a teacher, to provide different things for the classroom. She has to really think through this decision because the students love the different types of chairs and sensory objects, but it would also be nice to supply some technology. 
Additionally, nominations can be submitted by fellow staff members, students, parents, community members, or essentially anyone. The steps after which are nomination forms regarding specifics in the classroom that make them most deserving, and two letters of support. All the while, the educators in question are unaware. 
Kathy Meyer, high school math teacher and award winner, was nominated by a previous student, to which she responded, "I was honored and surprised and I was grateful to have received the award. I was especially grateful because I feel like it is a little bit more special knowing that it came from a student."
Subsequently, each nominee is allocated a score on a five to one scale by a panel of judges. The highest scores are then used to determine the winners. 
"There's five things we look for," Robbins said. "Everything from innovation and uniqueness to the number of students that this will reach. All the way down to the fifth factor is actually what we call the wow factor. This is something when you read it, you just say wow, that's a great idea."
In order to be a teacher that makes an impact, one has to appreciate the students. Meyer feels that the most important part of the classroom is having a relationship with the teacher. Something that is difficult because such cannot be established overnight. 
"Math is what I teach," Meyer said. "But I don't necessarily think that I'm the greatest math teacher ever. I try to make things easily understandable to students, but I think more importantly, it's about building relationships with kids, so that's what I try to do in my classroom, make it a safe, fun place to be."
Another perspective is that not every home is a happy home, and Davidson thinks the worst thing that could happen is that these kids come to school and then have a teacher that is yelling all day. Something that she refuses to do because students should know that they can come to school, and feel love and compassion. 
Davidson's affection for her students really shows through her actions. For example, she had a special ed student throwing paper airplanes in the classroom. She explained, "I gave him time to do that because that's what he needs to do, and he really wanted to share. Even though it was not what we were doing at the time, I gave him a chance, and then he threw it and it landed smoothly on the table. Rather than saying alright, let's get back in the morning meeting, I'm like, 'wow! Now, how do you think that plane took flight. And look at how it just perfectly landed in between the two blocks, how does that happen.' So you engage the other students as well instead of belittling him."
Robbins said, "All the teachers that are nominated deserve to win. I get such positive feedback from the review panel and what a great experience it is. This just solidifies the knowledge that we know we have great teachers."
About the Writer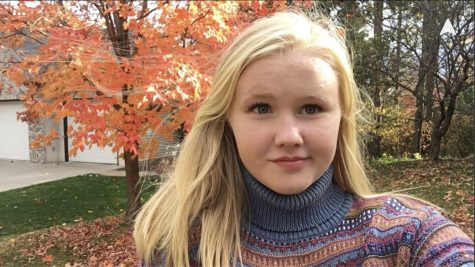 Abby Anderson, Photography Editor
My name is Abby Anderson. I am a junior this year and a photography editor for the Pony Express. I play singles on the girls' varsity tennis team. I also...