Hassani develops Green Room at Anderson Elementary
In the past few years, mental illness has been on the rise, particularly in students. Some schools have taken notice and implemented new strategies to ease the burden of mental illness.  Anderson Elementary's first grade teacher Robyn Hassani developed a "Green Room" to create a safe environment for students to go when they feel anxious, stressed out, or struggle to manage their behavior. Along with her great teaching ability, the idea has helped to put Hassani in the running for Minnesota's Teacher of the Year distinction. 
The benefits of a Green Room can be powerful,  not only for the students, but for the staff as well. Instead of disrupting class, students can simply walk to the Green Room where they can properly process and cope with their emotions. It is not only a great tool for teachers, but students as well. Students can learn early on how to process their emotions healthily and productively. 
The Green Room is called that because of its green color. Psychologists have long recognized that the primary color of nature has naturally calming properties and can provide students with a greater focus in educational settings. Green rooms have long been used in television studios, where actors and guests gain calmness and focus prior to their appearances before a camera.
"The Green Room bestows many benefits," Hassani said. "One benefit is that it helps students of all ages regulate their emotions. Emotions can range from frustration to excitement. And when big emotions are present, it can be hard to focus on your school day."
The Green Room also helps students feel safe and cared for, according to Hassani. She and other teachers believe that the room is a great solution to common problems in the classroom, which often arise when students feel overwhelmed or unable to process their emotions. 
"
I would highly encourage the implementation of a Green Room or similar structure to any school…"
— Robyn Hassani
 "I am not a mental health professional and do not want to overstate the usefulness of the Green Room," Hassani said. "I can say that teachers and even students begin to notice patterns about the times of day that Green Room visits are useful for students to work through strong feelings. It provides a judgment-free zone for the student to get away from the stressor for a short period of time in order to regain a sense of autonomy about how they will react to a stressful situation."
With the vast success of the Green Room in an elementary school setting, some students believe the Green Room could benefit students in higher education as well, such as middle school and high school. In a high school environment, such as Stillwater Area High School, a Green Room may be used for more serious mental health conditions, such as anxiety or attention-deficit hyperactivity disorder, or ADHD. 
"I think Stillwater should implement a Green Room because it would be a nice place to wind down," sophomore Maya Hanlon said. This would be especially helpful for students with diagnosed mental health challenges, who need some time to reset during the day when the stresses of school feel overwhelming.
However, with older students, some people may misperceive the room as a work avoidance room, according to Hassani. But for students who need a support system, she thinks a Green Room really could be a game-changer.
For students with severe mental illnesses, the Green Room would provide a much-needed haven to go when experiencing a mental health challenge. Students would have the opportunity to leave the classroom and take a break to calm down and figure out what is wrong. 
"I think the Green Room is a great idea," junior Maggie Irwin said. "I believe that there are many benefits to implementing a Green Room in schools, one being that students can access a safe space  when they really need one." Thanks to the help of Hassani and other staff at Anderson Elementary, many younger students now feel they have that safe space to go to when they feel overwhelmed. As younger students become familiar with the Green Room in the lower grades, it might be helpful to continue offering these kinds of spaces for high school students as well. 
"The Green Room has been a priceless addition to the elementary schools in this district. I would highly encourage the implementation of a Green Room or similar structure to any school that is considering ways to meet the social-emotional needs of students," Hassani encouraged.
About the Writer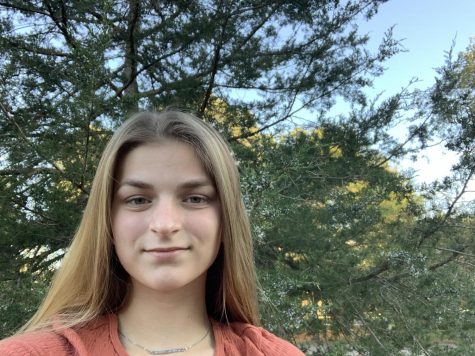 Kiera Rivers, Photography Editor
My name is Kiera Rivers, I am a junior, and I am a photography editor. I play hockey in the winter and will be playing golf in the spring. I love spending...