'Kabekonian' pulls off another first place prize
The 2019-2020 Kabekonian has earned yet another first place prize by the student yearbook staff, led by language arts teacher Laurie Hansen. COVID-19 has affected how the awards ceremony works, but that did not stop the Kabekonian from taking the Best in Show. This year's staff is determined to make 2020-2021 another great year for the yearbook. 
The Kabekonian recently won the respectable "Best in Show" award from the Minnesota High School Press Association. It also won two other awards from the Journalism Educators of Minnesota, which was first place in the yearbook theme package, and All-State Gold Honors. 
"I think the Kabekonian won the Best in Show award due to its creativity and originality. Every year, our yearbook staff develops new and creative ways to express the school's accomplishments and represent the students and staff at Stillwater," senior Morgan Mantel said. "Whether this is through new colors, format, angles of photographs, and most importantly, the theme, the one thing we strive for is to create a yearbook that is meaningful to all students."
"
Our yearbook staff develops new and creative ways to express the school's accomplishments and represent the students and staff at Stillwater"
— Morgan Mantel
COVID-19 did not stop the award ceremony from taking place. Students and teachers were able to virtually tune into the ceremony.
Senior Alex Steil said the award show was virtual, much like everything else this year. Awards were given to last year's writers and contributors. Steil said the yearbook design last year rocked so it did not surprise him that they won first in the state. He hopes they can match the standards this year.
Even with the COVID-19 restrictions students are still determined to have a good yearbook production year. Even students who were not working on the yearbook last year, were still excited about the award and are ready for the upcoming production year.  
"They were happy about the award and, Stella Bersch, her reaction was, I said in class, 'We got first place for the first time in six years," and she said, 'And we're going to do it again next year!' So she was very pumped to do just as good of a job for next year so I think it (the award) helped motivate them to want to do another good book this year," Hansen said.
The Kabekonian is a student-made project. Students put in extra time to work hard and have to be quick thinkers to produce the complex end product. 
Senior Ella Nelson emphasizes the Kabekonian staff's "hard work and adaptability. Working with the Kabekonian requires students to put in that extra hour and adapt their page plans when something doesn't go as planned. Ms. Hansen also contributes a lot to the success of the Kabekonian. She encourages all of her students to work together for a strong end product and educates her students on important journalism skills."
Students are working harder than ever to meet deadlines and get things done. The  staff is also taking advantage of the situation basing pages off of COVID-19, quarantine and hybrid-learning.
"The team leaders and staff are conducting zoom or google meet interviews, photographers are attending sports games while social distancing, and students are working on their pages at home on the online learning days," Nelson said. "Personally, my partner and I have worked on our page over the weekends and after school hours to make sure we complete it to the best of our ability."
Hansen has been a long time contributor to the Kabekonian, therefore she has been proud of many victories the yearbook has seen over time. Such as receiving a silver crown in 2001, pulling off the 100th anniversary book in 2016, and many more. 
"We got a silver crown from the Columbia Scholastic Press Association, a group out of New York and they had a spring seminar. They're very hard judges, and it's hard to get a gold or silver crown," Hansen explained. "The 2001 yearbook got a silver crown so I was really proud of that. I flew out to New York to get it. So that was exciting. That was a good, good year."
"Quite honestly, I love the whole thing. I love the fact that I'm helping make something that lasts beyond our year. This year, more than others, it's important to have a sense of what we went though. Most people I know aren't fond of history, but when their grandkids ask about the year we didn't have any school on Mondays, Wednesdays, and Fridays, they can pull out their yearbook and say 'Yeah, we didn't have school. Here's what else we missed, but here's what we did instead," Steil summarized. "Because at the end of the day, the yearbook is still a PR tool for the school. Most importantly, we're making something that tells a story, but more importantly stories that last a lifetime, not just a year."
About the Contributor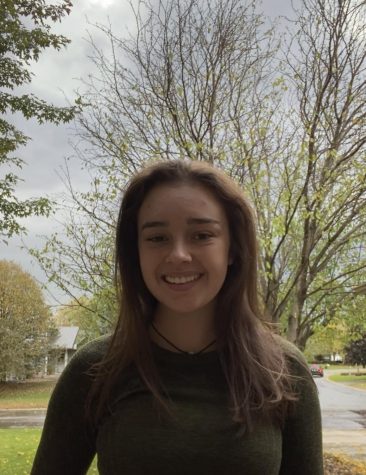 Bella Godfrey, Online Editor
My name is Bella Godfrey, an 11th grade student, and I am an Online Editor for the Pony Express. I run spring through fall and do three day eventing during...