Long range task force analyzes boundaries of District 834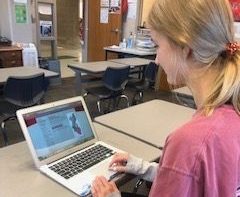 The district has put together a long range task force together this fall/winter to analyze enrollment numbers and consider possible boundary changes if needed. These changes depend on the population demographics of the many parts of District 834.
Senior Elise Riniker said the Lake Elmo and Woodbury sections of District 834 continue to grow at very high rates.
The team consists of community members, students, parents and district staff. There are a multitude of tasks that need to be completed before final plans are introduced to the school board this December.
As stated on the district website, "Utilize existing space within the school district, as well as address future growth as a result of demographic and housing patterns; Enhance existing facilities over the next five years based on improving learning opportunities for all students; Identify deferred maintenance projects to ensure the safe and effective operation of existing district facilities for the next ten years." These points set a tall order for a proposal set in December.
"Population distribution changes every year with the construction of new housing and a growing population," Principal Robert Bach said.
This puts strain on schools, especially elementary schools, where population growth is directly reflected in schools. These population changes sometimes make boundary changes necessary to keep schools operating at their most efficient.
"
Population distribution changes every year with the construction of new housing and a growing population.
— Rob Bach
The individuals most affected are the ones who are or have students in elementary schools. These students have seven schools to attend, versus the two middle schools and one high school.
Even in the early 2000s District 834 experienced population growth pains. Stephanie Nord, a teacher who had a son go through District 834 said there were lots of kids at Lily Lake.
"[there were] changes with boundaries, a development moved a bunch of kids to Rutherford," Nord said about distribution changes.
Other solutions to overcrowding are increasing interactive learning materials such as computers, smart boards and touchscreen devices. Increase in facility staff is another solution, but extremely expensive. Another effective and significantly cheaper solution are modular classrooms or "portables".
In the high school specifically, overcrowding has been largely alleviated.
"Senior electives have gotten a lot of kids out of the school for one to two hours a day," Nord said.
"Several approaches can be used to create an inclusive, flexible, and collaborative [learning environment]," Riniker said.