Gymnastics state champs return with high expectations
Hang on for a minute...we're trying to find some more stories you might like.
The start of the season begins for girls gymnastics. After winning state last year, the gymnastics team begins their 2018-19 season. On Dec. 15, the gymnasts will compete in an invitational tournament at St. Cloud Tech. High School against some of the top ranked teams in the state. This will be their second meet but first tournament of the season. The tournament is an opportunity for teams to compete with schools outside their conference.
Out of the six teams that will go to the tournament, both Class A and Class AA teams will attend. This provides new competitors that the gymnasts would not normally compete against.
Junior captain Bekah Warner explained, "A lot of the teams you go against in an invitational are teams you usually don't get to compete against in the regular season so you get to have harder teams and easier teams it is just more of a competition."
The gymnastics team will compete in both meets and tournaments throughout the season. The difference between meets and tournaments is that meets are competitions against one team and tournaments are competitions against multiple teams.
"
We're going to start strong and work hard like we always do."
— Bekah Warner
Sophomore gymnast Megan McAllister said, ¨Tournaments are invitation so you have multiple teams and they take all day."
The importance of an invitational meet is to compete against top teams in the state. Because the teams are invited, the tournament is a good way to play against high level competitors.
McAllister said, "It's significant because not everyone can go so they pick the top teams."
Senior gymnast Nevaeh Gagliardi said,¨The team is preparing for this tournament by practicing six days a week from 3 to 6 p.m.¨
Warner added, "We're going to start strong and work hard like we always do."
The tournament can last the whole day making it a long day for the athletes. Whether the athletes compete in every event or specialize in a single event the tournament could take all day. The teams may have to sit out and wait because there is more teams attending.
Warner said, "It's a long day. It is sometimes from five in the morning and you don't get home till six, so it is just all day long that you have to be patient and work hard."
"For all the meets this year, we hope that we win and can take first like we did last year," said Warner.
As the season just begins, hopes from last year return. Hopes of returning to state and claiming the first place title.

About the Writer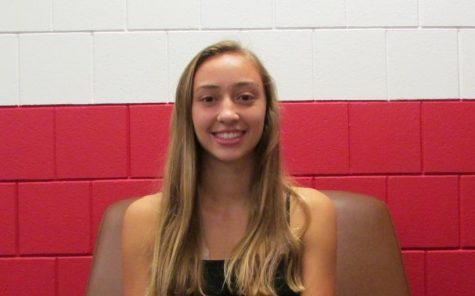 Elle Sprenger, Social Media Editor
Hi my name is Elle Sprenger. I am a junior, and a Social Media Editor for the Pony Express. I play volleyball for the high school. I love dogs, animals,...