Universities switch to test-optional administration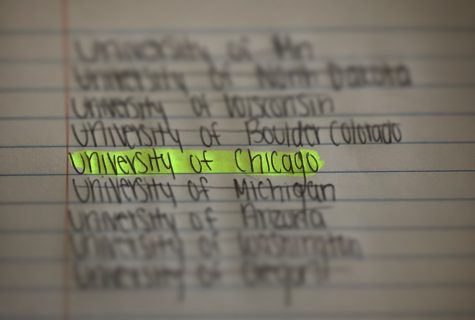 The University of Chicago and other top colleges are beginning to make the switch to test optional admission. On June 14, the University of Chicago announced that they were going to have a test optional process.
Colleges are making the switch to encourage a more diverse campus and to equal the playing field for students that do not have a high income. The test optional administration allows students with any background to get a higher education.
The University of Chicago is one of the first top colleges to transition to test optional administration. What this means is that if students wish to not submit the ACT or SAT, they do not need to. Colleges will still seriously consider the student for enrollment in the university. However, the student is going to need to stand out in some other way if they do not submit their test scores.
"
They're looking more at like what kind of person you are, not just at your ACT score."
— Amy Carr
"I think that student's record of achievement, like the grades that they've earned since ninth grade forward, and how rigorous the courses are and their grade point average is a better indicator of a students success in college," counselor Kate Nelson said.
Instead of one test score affecting a student's chances of getting into college, the four years of high school and accomplishments since ninth grade determine their academic future. By colleges looking only at all four years of high school, they can view a student's change and involvement in and out of education.
Nelson added that some students have bad test anxiety that negatively affects their test score. Therefore, having the option of not taking the test can take away from the pressure and anxiety the test give students.
Another reason universities are transferring to test optional is to obtain the best students they can for their campus. Universities can view everything the student does extracurricular wise so they can ensure that their are students on the campus are eager and pronounced.
"They're looking more at like what kind of person you are, not just at your ACT score," Amy Carr, college and career counselor said.
Colleges do not only want people that are academically successful, they want students who are unique and will provide a more diverse campus. By ruling out the ACT and SAT test score, they can view the student as a whole, not as a score.
"We want students to understand the application does not define you—you define the application" Dean of Admissions, and Vice President James G. Nondorf said on the University of Chicago's news website .
Test optional admission allows the campus for the university to become more diverse, and gives students a chance to stand out to colleges in a different form than a test score if they wish.