Charlson shares her passion and love for equestrian
Rosie Braun, Online Editor
March 5, 2018
Ever since she was a toddler, senior Ceci Charlson has had a fascination with horses. When she was three, she began to ride them and instantly fell in love with the sport of equestry. She has continued to grow her love for what she does throughout her many years of experience.
Horse riding is a sport of responsibility, commitment and a great amount of passion. With all three of these traits, Charlson has found a way to be successful with her priceless gift. When she was young, the barn was a fun place to go and pass the time, over the years it has become much more than that.
"It has always been a safe place. The barn has always been somewhere I can come and be by myself and I have always had pretty bad social anxiety, every high schooler struggles with depression and whatever. It is nice to be able to come here and ride and it kind of washes all your other worries away," Charlson said.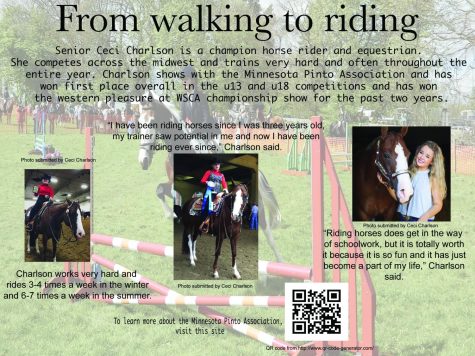 Ceci was only two years old the first time she rode a pony. Her mom took her to the Washington County Fair, she got to ride the pony there and she did not want to get off. The next year the same thing happened.  Ceci could have stayed in the dark, smelly barn for hours looking at each and every one of them.
"I started asking around if anybody had horses in town that she could just brush or come and pet. Just spend some time with… I got a lot of hang-ups and doors slammed in my face. Finally I landed upon a place that said they would take her," Ceci's mom Julia explained.
There can be bumps in the road when people wish to pursue a new hobby, but Ceci always showed there was nothing that was going to keep her from doing what she loved. From riding not-so-nice horses, to falling off and getting right back up again, she has worked through it all. All the little bumps have led her to her current horse, Lola.
"When I first met Lola, which was years ago, I was not a fan. When the chance came around for her to be mine, my mom and I thought about it. The lady who owned her before is named Karen, we looked back and saw how successful she was with her and how nice she is, it just seemed right. Ever since then we have gotten along great, we have our disagreements, but nothing that would push either of us over the edge," Ceci said.
Ceci has been training with Melissa Bertz at Rock Star Performance Horses for about eight years. Bertz has personally been professionally training horses for around 20 years. While training with Bertz, Charlson has received many impressive titles. After so many years of working together, the two have gotten to know each other very well.
"She is hard-working and very determined. She is competitive without being obnoxious about it. She wants to get better and do well, but at the same time she has very good sportsmanship," Bertz said.
"
It has always been a safe place. The barn has always been somewhere I can come and be by myself …"
— Ceci Charlson
Charlson has accumulated quite the portfolio because of her constant training which includes being at the barn 3-4 days per week in the off season and 6-7 days per week during the summer. In 2015, she placed first in the nation for 13 and under, and also placed first in 6 individual class placings. She placed top 10 in a world show. For the past 3 years she has either gotten first or second place in the Minnesota divisions and won first in western pleasure class at Champ Show, and the list goes on.
With all of these accomplishments, Ceci remains humble about her achievements.
"She had a horse named Star that she was leasing and she had a lot of good success with that horse and sometimes it can be hard to follow a lot of success with other horses. When you are used to winning and people think of you as somebody that wins all the time, it can create some enemies… sometimes it is hard to deal with that and be friendly but she does a good job making sure she maintains friendships with some of the girls," Bertz said.
Looking into Ceci's future, horses will hopefully always be a part of her life.
"I think I will definitely ride for fun in college and I have plans after I graduate to go out to North Dakota and work on a ranch… make it more of a fun thing than a competitive thing," Charlson said.