Players dress for success on game days
Athletes have begun a new advertising strategy to get fans to come to their games. Students have some fun and show the pride they have for their team by dressing up for their game days.
Each day in the hallways, one can expect to find a new group of students dressed in crazy outfits. The cause of this is game day. Sports teams have started setting a theme to their clothing when they have a game, meet or event that night. Some of the themes include black out, where students dress in all black, camo out, where students wear camouflage and bright orange clothing, prep out where the athletes can be found in preppy clothing and also jersey out where the students wear their game day jersey. Each game is a new theme and the team gets noticed, which encourages fans to attend their games.
"
It's just a tradition but we all like it. Dressing up boosts team moral and make the players proud to be on the team."
— Bryce Hafemeyer
It is obvious which team has a game that night because in school that same day they can be seen in crazy themed outfits along with the rest of their team. This gets the students' peers to pay attention to them and even intrigues them to attend a game.
Junior Rachel Houle said, "When we dress up for game day people become a lot more aware if we have a home game or away game that night."
By dressing up for game days, athletes show their team pride and school spirit. Students are proud and willing to dress up and attract people to their games along with having a good time with their teammates. The teams take this as a place for the players to grow and also bond as a team.
Senior Alyssa Lammers said, "I think we all bond when we dress up for game day. People bring in all the clothes they have for that theme so that other people can borrow them. Also we put face paint on in the morning and take a picture after school altogther."
Along with themed outfits, another aspect of dressing up for game day is athletes wearing their jerseys. Many teams include this theme in their season of dressing up. This is what the football team does for their game day.
Junior Brice Hafemeyer said, "It's just a tradition but we all like it. Dressing up boosts team moral and make the players proud to be on the team."
Teams have put their own spin on dressing up for game days and some teams have made very unique themes based on their sports. For example, the soccer team now does a day where they each dress up like their coach. The concept of getting fans to games has now become just as fun for the fans as it is for the players. Now athletes can have fun choosing the themes for their teams.
Lammers said, "We do a dress up day like Mike Huber, which is our coach, and it's funny to see everyone's outfits that day."
Everybody loves seeing athletes passionate about what they're doing and when students dress up for their team, it makes fans become more excited.
Hafemeyer said, "Dressing up on game days has become a way to let people know that we have a game and we want them to come and support us."
About the Contributor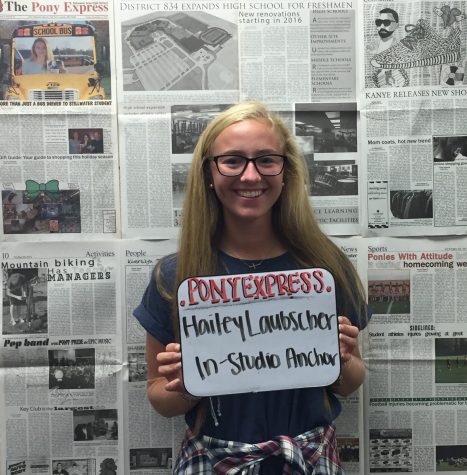 Hailey Laubscher, Pony Express TV In-Studio Anchor
Hailey Laubscher is an 11th grade student at Stillwater High School. She previously attended Stillwater Junior High. Hailey is an online broadcaster for...