Murr affects community through sports
Being an impact player does not come so easy. Senior Austin Murr has wowed coaches, fans, and teammates as an unbelievable player and model character, emerging as a sports and community all-star throughout the city of Stillwater.
The defensive-back for the Ponies knows first hand what it's like to play under the spotlight, performing at a varsity level for Ponies football, baseball, and hockey. Murr has made himself an important player on his team as well as in the entire community by participating in several events around the city and working hard for his teammates on the football field every Friday night.
The three sport athlete not only became apparent as a strong competitor, but has made himself known as a team player and honorable character as well. There has been plenty of new juniors out for football, trying to inherit the Ponies defense. Murr has been a big help to those new players.
"
"He's always been positive and upbeat towards his teammates."
— Mark Elmer
"He's always been positive and upbeat towards his teammates," Mark Elmer, long-time defensive coach for the Ponies football team said. "He's really helped out the young guys with terminology and technique this year."
Senior teammate Ben Peterson added, "When coaches aren't around, Austin is always hard-working and on task. He knows what's expected of all of us and follows through with his commitment to make sure everyone is up to the team's standards."
Murr has made his mark on the community as well, participating in several events around the venue. He offered a helping hand for the Pony youth football camp, Cub grocery bagging, Feed My Starving Children and numerous Special Olympics events. Murr's presence within the association models his character and straightforwardness in his neck of the woods.
"I try to unite my community," Murr said. "Even in the games I play, on Friday nights. We might not always get along during the day but for two hours from seven to nine on friday nights, were all a team and we're all one community."
The all-star senior for the Ponies has been relied on by coaches and teammates from the moment he stepped on the football field. As a junior, Murr stepped up to any opportunity that came his way and even contributed to a big win as a fill-in player against Mounds View.
Being on the big stage really helped him,"  Elmer explained. "Murr stepped in as an underclassmen when a few of our guys went down with injuries. He really rose to the occasion and made some big plays."
Adding to his excitement on the field, Murr also kindles the flame of the entire team and fanbase for the Monies with his performances. In a big victory against Eagan, Murr's two interceptions completely ignited the explosive fan section as they chanted his name.
Murr's enthusiastic, fighter-like attitude is one of the driving forces that electrifies fans of the Ponies and his teammates . He has the ability fire up the whole team and get the entire stadium up on their feet.
"Murr is a big contributor the fans of the Ponies," superfan senior Isabel Boedigheimer said. "He calls himself and his fellow defensive teammates 'the hounds' and he's got everyone chanting it when they do something awesome."
Murr added, "I want to be the leader that gets everyone having fun. Personally, when I'm having fun, when I'm having a good time, that's when I play at my best. I strive to be positive and enthusiastic to get everyone up and ready to play."
Murr's way a playing is unique to that of the average player.  He synthesizes the whole city through being an athlete and contributes to a lot more than just the sport itself. Through hard work, courage and utter love for the people he plays for, Murr is able to bring honor to the name of the Ponies
Murr said, "Nothing compares to playing on Friday nights in front of your whole city which is why I want to contribute to this community by way of sports."
About the Contributor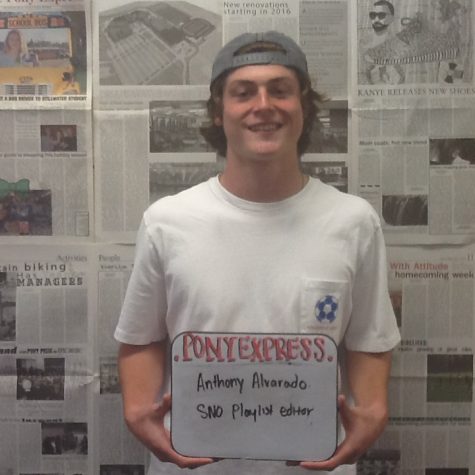 Anthony Alvarado, SNO playlist editor
Anthony is a Junior at Stillwater Area High school. Anthony enjoys adventuring and taking trips with his friends and family, he visits the boundary waters...