Climbing wall installed during spring break
As the Physical Education Program (PEP) grant comes to a close, the exciting opportunity of a brand new climbing wall has brought much excitement among the student body. The wall will present itself after spring break, and will bring new opportunities and relationship skills to the physical education program.
Stillwater Area High School was awarded the PEP grant three years ago, by the U.S. Department of Education. The PEP grant is to expand physical education programs, including after school programs for students in kindergarten through 12th grade.
One of the cool features of this grant is that there will be a climbing wall added to the synthetic gym. The main goal of the PEP grant is to focus on lifetime fitness.
"Besides getting new equipment from the grant. Another thing that it does it forces us to focus on our level of instruction. We have a consultant that is here from Washington D.C. all week this week watching and observing our PE classes and giving us feedback on things we can do to potentially better the quality of PE instructor in our distant," Principal Rob Bach said.
The climbing wall will be added to the synthetic gym over spring break. It should be ready to climb on once the teachers learn how to use it. A climbing wall is a very unique way for students to get their physical fitness in. It will also built trust and relationship skills by having the students help hold one another up.
"The rock will help build strength, power and bring aerobic and anaerobic fitness to higher levels," junior Kaylie Goltz said.
The money provided by the PEP grant has not only included getting a climbing wall installed, but also better equipment.
"I think there has been equipment too. I think some of that has been purchased before I got here. The heart rate monitors that all of our students wear, the software that it takes to run it all of those things are examples of what has been purchased," Bach said.
Part of the PEP grant is to promote healthy lifestyle. One way Stillwater has promoted healthy living is by cutting junk food out of their vending machines and by what they sell during the school year. This year they got rid of selling donuts during BLAST week.
"The school has all kinds of posters, we talk about that also through health. Health is a course that is required course, so we talk about healthy lifestyle in that course and that is something that every student gets exposed to," Bach said.
"The PEP grant is actually more of a district function then it is specific to the high school. So the junior highs benefit from that as well as some of the elementaries too. Again it does it provides money which the district can use for to fund all kinds of different enterprises," said Bach.
About the Writer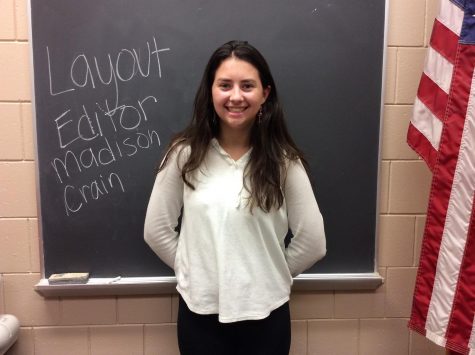 Madison Crain, Layout Editor
Madison Crain is a junior at Stillwater Area High School. Madison is the layout editor for the Pony Express Newspaper. Madison is also involved in Key...