FCA builds community and serves school and community
'The Fellowship of Christian Athletes' goal is to present coaches, athletes, and all of whom they influence with a relationship with Jesus Christ as well as being a follower of Jesus. They do this by helping and informing all that attend, with the tools they need to make sure their character, actions and attitude reflect a follower of Jesus Christ.
FCA is a student led club and they meet every other Wednesday at seven o'clock in the morning in history teacher Beau Labore's room, room E222. Although the title of the club is "Fellowship of Christian Athletes", an individual wishing to join is not required to play a sport. The club is open and welcoming to all that wish to join and is still continuing to grow as the year progresses.
Student leader and senior Elise Hendrickson  described the benefits of attending FCA as an overall great experience, "To connect with people in a different way other than common similarities, we connect on a God level with is sometimes even more powerful."
Various FCA groups across the world work to serve in the community, begin and strengthen a fellowship in Christ among students and their coaches and students. FCA meets twice a month outside of their meetings that take place before school. One of these outside of school meetings takes place at someone's home or other activities such as skating, serve days, or whatever other activities they decide to do outside of school.
"
To connect with people in a different way other than common similarities, we connect on a God level with is sometimes even more powerful."
— Elise Hendrickson
Stillwater FCA advisor Brad Madison agreed with Hendrickson's view on the positives of FCA, "I think that it has provided a good spot specifically for Christian athletes to gather… to get to know one another and to get to study God's word and see how it applies to sports, to life, and to high school."
Madison added that a lot of their talks revolve around attitude especially when it comes to referees and competition. They also have recently been discussing what it means to be a leader. Whether that be a leader in a sports team or in life, Madison stressed that being encouraging, to love and interact with others. Each "huddle" or before school meeting are lead by student leaders as well as the times of discussion.
Senior student Leader Emma Stratmoen said this about the discussions, "We've changed how we are running the meetings, we are doing it based off of the Bible App and using a Bible study that is built into that versus people just choosing random sections or stories to talk about."
Stratmoen mentioned that their current devotional is based on being someone other people want to be around. She said that this particular devotional focuses on self identity and identity in Christ. These lessons are first discussed in more general terms and life applications and then are broken down into things like sports. Stratmoen mentioned how FCA is a great way for students to start their day and for a time of reflection on where they are in their relationship in God and where they are in life.
"The kids who attend FCA have changed their own attitudes it has been really cool to see everyone come together and talk about Christianity with such enthusiasm," Hendrickson said.
About the Contributor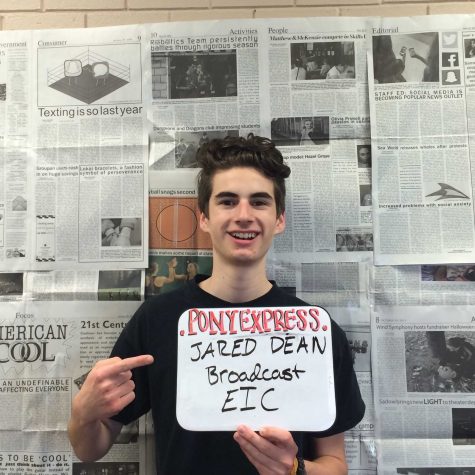 Jared Dean, Broadcasting Editor-In-Chief
Jared is the Broadcast Eic for the 2016-2017 year. Dean was a news anchor for his junior year and is looking forward to another great year on the broadcast...