Delacroix exhibit brings Minneapolis world class art
Eugène Delacroix has been inspiring artists for hundreds of years. His work helped transform art forever. From Oct. 18, 2015 to Jan. 10, 2016 the Minneapolis Institute of Art is giving guests the chance to witness Delacroix's work and the work of those inspired by him.
2015 marks the 100th anniversary of the MIA and to celebrate they are hosting this unique exhibit. Containing work from Delacroix himself as well as notable artists ranging from Edgar Degas to Vincent Van Gogh.  The exhibit focuses on Delacroix's artistic theory, his use of color, religion in art and the transitions that occurred around his work.
Known for his unique brushstrokes, innovative color palette and innovative subject matter. Delacroix changed the course of art by employing his innovative ideas and new techniques. Noted for being passionate and individualistic, Delacroix avoided the common flow of the art being made at the time and used his understandings of the artists that came before him to create a new era of art.
Like many skills, art should be studied and understood in order to be practiced with skill and meaning. The Delacroix exhibit gives people the ability to observe the work of a master and those who studied under him. The exhibition proves to be an extensive resource for those looking to further their understanding of history and art due to the large quantity of world class art and thorough use of detail.
"I think it is important that you see as much art as possible," art teacher Carey Nisi said, "For anyone in the arts, it is essential."
The exhibit proves Delacroix's deep impact on art through a display of pieces that have been created by artists who studied his method and technique. The pieces have a diverse range of topics and styles but each shares a common influence. Some of the art comes from world class artists such as Van Gogh and Monet.
"
I think it is important that you see as much art as possible."
— Carey Nisi
"I love Monet," senior Paige Polzin said. "I just walked in and I saw the Monets and I got really excited."
On top of the notable artists that are featured in the exhibit, Delacroix's work is also thoroughly displayed and examined. Such examination allows for people to understand why Delacroix made a large impact on art.
"Delacroix was such an an artist that we refer to him not by his whole name, but merely Delacroix," Metropolitan Museum of Art instructor Laurie Murphy said. "His paintings were monumental in size and in subject matter. They seemed so alive and full of movement. Not to mention the subject matter was bold and often controversial."
Most displays of art on the scale, caliber, and quality are located in massive museums or major cities across the globe. To have these sort of pieces brought to a city like Minneapolis and put on display in such an abundant fashion is very uncommon. The opportunity to have these pieces to view and study, so close to home is something that most any artist should try to to take advantage of.
"When I went I was kind of blown away," Polzin said. "I saw pieces that I had not seen. I got to see the original pieces."
"
I saw pieces that I had not seen. I got to see the original pieces."
— Paige Polzin
With a hundred years of history behind it, and a bright future ahead the MIA continues to provide Minneapolis with striking artwork and events such as this that help to educate and tie the art community together. The Delacroix exhibit provides true testament to MIA's ability to do these things, and will keep visitors coming back to see what MIA brings next.
"Yea; I'm gonna go back," Polzin said.
About the Contributor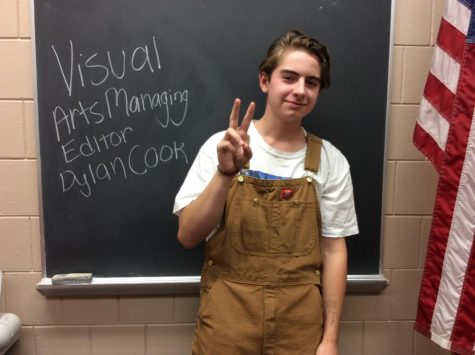 Dylan Cook, Visual Arts Managing Editor
Dylan Cook is a creative, outgoing, and outstanding sixteen year old student at Stillwater Area High School. Dylan enjoys photography, music, and snowboarding....