Annual Student Council presidents elected
Being the president of Student Council is much more than representing the student body. The presidents are also part of the school board, they sit up front at the board meetings. There are countless hours of planning and preparing for all sorts of events. Elections for new presidents 2015-16 school year just wrapped up and the ball is rolling with planning the events for next year.
After juniors Eve Thompson and Isabel Day were student council presidents for Stillwater Junior High their freshman year, they were once again elected for presidents their senior year, 2015-16. Current presidents seniors Alaina Friedrich and Sarah Matschi spend a lot of time making contact with people both inside and outside of Student Council. A lot of effort goes into trying to organize new ideas and figure out logistics to ensure that things run smoothly and efficiently.
"Student council presidents essentially organize members of Student Council and delegate different responsibilities and duties to ensure that all events run smoothly. We both care and enjoy leading it. We put our all in to it. Student Council as a whole organizes the dances, but the presidents more are mediators for Student Council," said Day.
Thompson and Day have a lot of really creative and innovative ideas that will help make student council fun and will make things interesting next year.
"We are planning on making an Instagram for the high school next year, where we do competitions during spirit weeks so students would hashtag something with you and your outfit on. The person with the best outfit wins something. We are also trying to make it easier on the sophomores to join, we are hoping to have a booth set up at sophomore orientation so they can think about it before the school year starts," said Thompson.
Even though Student Council is a student-run organization, there is an administrator that guides them in the right direction. Dusty Dennis, Thompson and Day have some ideas that they are working on together.
"Next year, we are thinking about having an open form for students to come to Student Council and bring their beef. Talk about what they do and do not like at the school. Student Council could present all of that stuff to the administration, so they are actually representing the student body. It is something new to try," said Dusty Dennis.
"
Next year, we are thinking about having an open form for students to come to Student Council and bring their beef. Talk about what they do and do not like at the school."
— Dusty Dennis
Student council has to pay for everything they host. For instance, a DJ for a school dance will cost around $1,000 – $2,000. Student Council has to pay almost $4,000 to have the SnoBall dance at Withrow Ball room. So all the money that students pay is going right back into the event to pay for all the treats and everything that goes along with the event.
"For fundraising, the money we make off the dances to put into things, for popcorn during spirit week. We use the money to give back into the school. It also goes to our student council retreat. The money from the homecoming  dance went back into buying stuff for homecoming week, such as Mr. Bach's costume. We ended up with a lot of extra money this year,and we are planning a new event with that money," said Thompson.
Student Council is lots of student and it is student ran. Elections for new members are coming up in the next week, campaigning is all around the school walls.
"Campaigns are luckily not too intense for Stillwater. Honestly people don't do a lot besides put up posters. I wish people had to make up raps or make speeches. Mostly people vote for names they know so the campaigns are really about who can photoshop the coolest campaign picture for Twitter," said Friedrich.
Thompson and Day are doing a family feud night within the next month, so if you want to get involved, here is a great way to start.
About the Contributors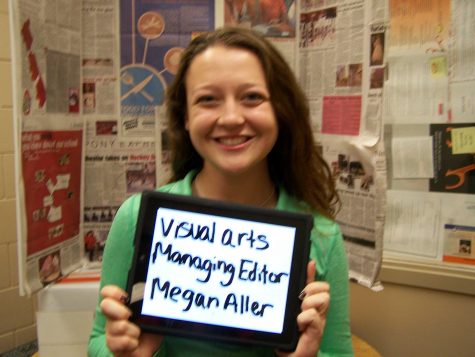 Megan Aller, VAME Manager
Megan is ready to graduate this up coming spring and eager to become a Nebraska Husker, fall 2015. She is a second year returning student on The Pony Express;...
Olivia Arkell, Social Media Reporter
Olivia Arkell is a Junior at Stillwater Area High School and takes on the role of Social Media Reporter.  She has 4 siblings and plays hockey. Her hobbies...