Jones retires after 39 years of teaching
Cory Spawn, Broadcast Managing Editor
April 30, 2015
Each morning around seven o'clock, orchestra teacher Jerry Jones walks past a sign saying, "Enter these doors with an unrelenting sense of urgency," followed by members of Concert Orchestra  for morning sectionals.  They all come not just because they like to play their instruments, but because of a teacher that has made an impact on them.
Jones has been teaching orchestra for 39 years, the last 11 of which have been in Stillwater.  He spent his earlier years teaching in Duluth, Minnesota.  Before him, John Hainlen taught for 25 years, pulling the orchestra program together to what it is now.  Jones announced his retirement on Nov. 1, which is early for most teachers, to allow the district to have more time to search for a replacement.
Students in the four orchestras at Stillwater will miss him, but are proud of being a part of Jones' orchestras.
"I feel like he really cares," said senior Natalie Lundeen.  "It is more that just a job for him, it is his life.  He cares about all of us and knows us well."
When he looks back at his years of teaching, he has had many experiences, including dozens of orchestra trips and hundreds of concerts.  He doesn't have a favorite experience but enjoys them all and was pleased the with his last Concert Orchestra trip to St. Louis in April.
"My favorite song is the one I'm working on, I scheduled pieces I like," he said.
Jones made connections with many of his students beyond being their teacher.  The orchestra members have special bonds between him and each other.
"I'll miss the kids.  My favorite memories are when students see me as worth getting to know. [It lets me have] involvement in their lives in many ways.  I have gotten to know them beyond the teacher/student line.  But it doesn't happen all the time."
He will miss his teaching career and all the students he has worked with.  He has chosen to leave now, rather than next year, which would have been 40 years, for many reasons.
"My standard response to why now is because 40 is the biblical number of trial and temptation.  40 days of lent, famine.  I am running out of gas," he said "The real reason is I'm leaving now because I want to finish well."
Students who have had Jones as a teacher will miss him after he retires.  For students who are sophomores and juniors, they will have a different teacher which the district is currently searching for.
"I will miss him, I have formed a bond with him and I will miss him," said junior Paige Polzin. "Next year I may not have that bond with the new teacher."
Jones enjoys working with high school students.  In his retirement, he may teach some more, but he does not intend on being a substitute.  He also plans on taking some classes and becoming more involved in the Minnesota Astronomical Society.
"High school is one of the most exciting generations because the answer is always yes," explained Jones.
About the Contributors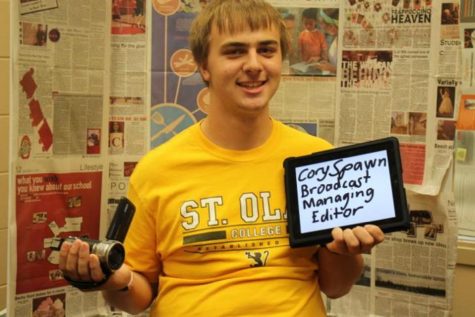 Cory Spawn, Broadcast Managing Editor
Cory Spawn is a broadcast managing editor and is a senior this year and is in his second year on the Pony Express Staff.  While not writing articles or...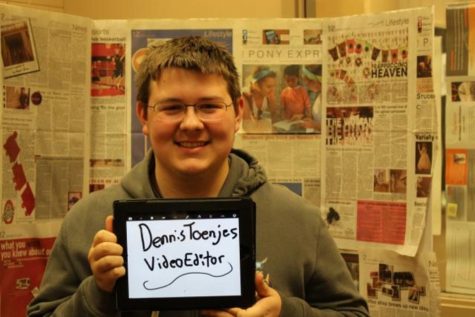 Dennis Toenjes, Video Editor
Dennis Toenjes is a junior at SAHS, his interests primarily include gaming and violin, you can usually find him playing one of the two! His favorite suspects...