Twins at birth, friends for life
Seniors Maddy Ek and Ben Ek are one of the rare couples of siblings that happen to be twins. They were born on Dec. 31, 1996 and Ben is 17 minutes older than Maddy.
"I wouldn't know what it would be like to not have a twin. Maddy and I are good friends, but I know that isn't the case for all twins," said Ben Ek.
The twin birth rate in the United States is 34 per 1,000 live births, according to the Centers for Disease Control and Prevention. Maddy and Ben's parents were not expecting twins, but were overjoyed when they found out the big news.
Both Maddy and Ben get along wonderfully, unlike most siblings who cannot stand to be in the same room for more than five minutes with each other. They are each other's best friends and that is the best kind of relationship there is.
"It's like having one of your best friends live down the hall from you. We don't have the same group of friends, but we still hangout. He's always there for me when I need him," said Maddy.
They work as a team with some things more than they do others.
"We are competitive so whenever we have a family kickball game we try to get on the same team because when it comes to those kinds of things we work really well together. School work is a different story though, it just doesn't work to do it together," said Maddy.
Although the Ek's are fraternal twins, they are still alike in plenty of ways. From their personality to their willingness to do things, they are as similar as twins would be.
"They're very alike. They have quirky senses of humor and are both thoughtful and selfless. They are both also very adventurous and outdoorsy, they love camping and all that stuff. They don't have the same friend group, but still manage to act similar," said senior Katie Beedle.
Maddy and Ben are not meant to look alike, but share a few common characteristics between them. People either recognize them as twins or think they are just close friends who are together a lot of the time.
Maddy said, "I hear it both ways, some people say it is really obvious that we are twins and other people say they would have no idea. Our noses are pretty similar and we have the same hair and eye color, but other than that I am not sure we look like twins."
"
It's like having one of your best friends live down the hall from you. We don't have the same group of friends, but we still hangout. He's always there for me when I need him."
— Maddy Ek
Aside from their similarities, they are also different in their own special ways. Both have a distinct personality and special feature that sets them apart from the other.
Ben said, "I think we are much more different than we are alike. I feel like Maddy is more outgoing than me and we listen to different types of music. We also don't hangout with the same people for the most part and the classes we take are not the same."
Ben and Maddy do not have any strange things they do the same. They cannot telepathically speak with each other or read each other's minds, but there have been times they can laugh and joke about trying.
"There have been instances when I've tried to telepathically communicate, but that doesn't work. Maddy said one time she was trying to get help from me on a math test by just thinking, but nothing happened," said Ben.
Life without a twin is hard for Maddy to imagine. She has grown up with Ben her entire life, except he received a few extra minutes. They have been together since day one and grew up leaning on one another.
Maddy said, "We've had classes together since preschool so school would be different for me if I had not always had Ben there. Same goes for any other activities like drivers ed and music lessons. Also not sharing a car with another person would be different."
Next year would be a hard transition for both Maddy and Ben if they were being separated. It would be the first time in their life that they wouldn't be together at all times. Surprisingly they are both attending North Dakota State University together.
"We definitely won't see each other as much as we do now so it will be a little different. We will probably meet up every once in a while throughout the week to check in on each other, but not very much as we get accustomed to college life," said Ben.
Maddy and Ben share a special bond that connects them in more ways than normal siblings. Only twins can truly understand the bond that forms by growing up with someone so close. Twins, a bond shared by only a few and understood by fewer.
About the Contributor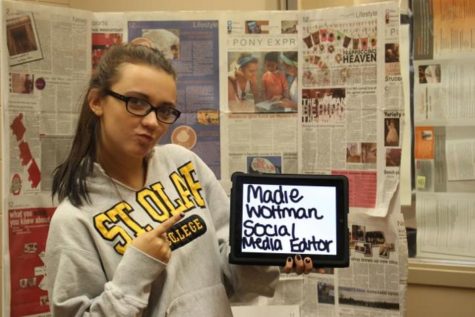 Madie Woltman, Social Media Editor
Madie Woltman is a junior at Stillwater Area High School, her role in the newspaper is social media editor. Madie has been dancing at Larkin Dance Studio...