Hockey strides into sections
The whole season comes down to one game. Months and months of off-season training, practices and games, sections unfolds the entire season into a few important games. Now is the time teams need to pull together more than ever.

The hockey teams, both boys and girls, are coming to the end of their season. The girls are completed with sections, losing previous champions Hill-Murray Pioneers 3-1. The boys finished their regular season with a quick transition into sections. The toughest battles are yet to come for both teams, despite the tremendous talents and hardships they have overcome.

For the girls, a tight game with the first seed and previous champions was an accomplishment, win or lose.

Senior Emily Wiegand said, "Even though we lost to the former champions, Hill Murray, I believe we played the best hockey of our season."

"

Even though we lost to the former champions, Hill-Murray, I believe we played the best hockey of our season."

— Emily Wiegand

."

Once the sections rankings are posted, previous accomplishments and set backs are pushed aside. The true team is shown at the end, where everything comes together.

Senior Georgia Eger said, "We had a really intense week of practice, like nothing I've ever experienced before. The competition during practice was unreal. Practice was way harder than the White Bear Lake game by far."

The girls fought their way through the season, always keeping their goals in mind no matter how big a set-back hit them.

"I think the toughest things we had to overcome were the losses and ties to teams, like Mounds View, Cretin and Roseville. It's hard to come back from games that are so mentally and physically draining, but our team did a great job pushing through it and staying positive," said Wiegand.

The boys, on the other hand, are preparing the huge obstacle of sections. Finishing third in the conference with a record of 17-8-0, they intend to come out full-blast without holding anything back.

Senior Jack Scanlan said, "We are getting ready for sections by doing spinning classes before school at River Valley and we are just focusing on beating Tartan on Saturday for our first section game."

Despite all of the obstacles, these boys are dealing with adversity together as one. They truly believe that improvements can only happen when each member pulls for each other. They apply these beliefs in everything they do during the season.

"The toughest thing we needed to overcome this year has just been adversity from someone getting injured to being down a goal or two and having to fight back," said senior Garrett Siegfried.

Making small strides throughout the year altogether can help a team improve tremendously and achieve their goals. Both teams played intense opponents in the annual holiday tournament, but were remarkably successful.

Siegfried said, "My favorite moment this season has to be our OT winner in the Schwan's cup against Rosemount."

Support from friends, family and the community have helped propel both teams extremely far. Being in the state of hockey, both teams are a constant reminder to everyone what kinds of doors hard work, dedication and caring for one another open.
About the Writer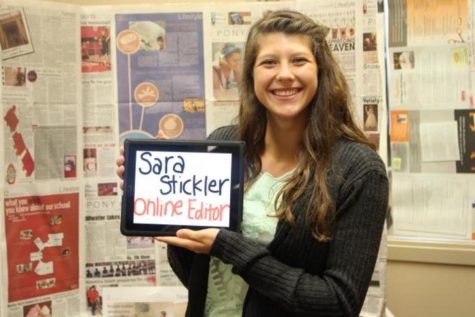 Sara Stickler, Online Editor
Sara has many activities and interests incorporated into her life. She has a variety of passions, making her life very busy. One of her biggest interests,...