EIC Column: Spring break in Mexico puts students at risk
Hang on for a minute...we're trying to find some more stories you might like.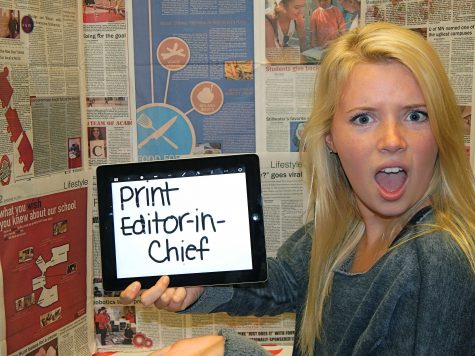 More stories from Lucy Langmack
The middle of March marks the annual, legendary spring break; also known as a week in a tropical country without parents, all inclusive hotel luxuries and a legal drinking age of 18 years old. According to studentadvtrav.com, spring break is "outstanding parties, beaches, cheap booze and beer." Stressed students dream about their spring break trip vacation to sunny skies, warmer climates, blue waves crashing on the beach shore and the key factor to top off this all week party: alcohol. It is dangerous and unsafe to drink during spring break with no self control in an unknown country, thousands of miles from their home.
As glamorous as it sounds, spring break elevates the risks for high school and college students as they take on responsibly in a foreign country, being safe and using their street smarts. However, many students travel with intentions to excessively drink. This causes them to act irresponsibly, especially if they are with their friends and heavier drinkers in general.

Loading ...
Famous media and music festivals have covered spring break trips, like MTV, hosting a spring break party in Cancun, Mexico. They offer everything students could ask for on their week off, like beaches, bands, bikinis and beer. In 2002, over 80,000 students attended this all beach party. According to the Trauma Foundation, 40 percent of the men and 33 percent of the women reported being drunk daily during their vacation. Most people believe alcohol industries and corporations like MTV should be held accountable for alcohol related dangers and behaviors from students, but these businesses are just trying to make money and plan events people will attend. Each student has the freedom to make their own decisions on their own vacation.
According to NCBI, in a survey of about 400 college students, the percentage for having a fight or argument with a friend tripled for students who went on a trip during spring break, tripled for injuries as a result of drinking and doubled for unplanned or unprotected sexual activity.
Traveling with a big group of friends is dangerous enough on its own and adding alcohol can bring out everybody's worst side. Approximately 70 percent of about 400 students reported drinking during spring break, according to NCBI. Students consumed an average of 15 drinks during the 7-10 days. Around 46 percent of this sample reported going on a trip for spring break and 36 percent reported negative consequences.
On the other side, simply going on a spring break trip will not always be related to consequences. It's when alcohol comes into play and creates complications for the students. There is also a big difference in going to a beach destination with alcohol intentions than going on a mission trip or family vacation. Some parents, as well, feel safer sending their children to all inclusive resorts because they have professional security and their food is already paid for so they do not need to worry about going hungry. It's always an educational experience traveling out of the country, students just need to be safe and smart and not take advantage of the legal drinking age.
Spring break drinking is associated with negative alcohol related consequences and is dangerous to any inexperienced traveler. It is important to be safe and smart and understand what and who is at risk when drinking. Spring break is not about having as much fun and freedom as you can in a week. It's about taking a vacation with a fun group of people, knowing the precautions and risks that accompany it. Most importantly, spring break is about having a relaxing break from the dorm life and research papers without the risk of alcohol consumption.