Karr furthers gymnastics career
Flying and launching their bodies through the air. Twisting and turning, using all the strength they have, hoping to stick the landing. Gymnastics is a difficult sport in which good gymnasts make their routines look effortless. Many gymnasts find the sport to be a major part of their life, requiring extreme dedication in order to succeed.
For most of junior Maddie Karr's life, she has spent countless hours in gyms and training facilities practicing and perfecting her skills. Karr has already committed to the college of her choice and could not be more excited to start the next chapter in her life, continuing her passion of gymnastics.
"I leave school early to get to the gym by 2:30 p.m. when practice starts, then I train for four hours. We end at 6:30, but with coaches talking to us and holding us back we don't get out until 6:45 or 7 p.m., which means I get home around 8 p.m. to eat, shower, do homework and go to bed," said Karr.
Karr has practice Monday through Friday every week with occasional Saturday practices. During fall of freshman year, with an already busy school schedule, Karr began touring and considering colleges while most kids were just beginning to get a feel for high school.
Karr took up gymnastics at the age of three. She worked hard to become a level 10 gymnast at Twin City Twisters, where she still trains now. Throughout Karr's club gymnastics career, she has earned seven state championships as a level 10 competitor and she still has two more years to compete. She has also won back to back vault and all-around championships scoring a 9.9 out of 10 on her routine.
Karr's outstanding gymnastics abilities are what earned her a spot on the United States Junior Olympic National Team for the past two years. To be on the Junior Olympic National Team, an athlete must be a level 10 gymnast who places in the top four at nationals in their age group. The Junior Olympic National Team consists of only 32 girls from around the United States.
Maggie Nichols, Karr's teammate at Twin City Twisters, comments on her accomplishments and work ethic, "What makes Maddie successful is her desire to win and be the best she can be. She is very hard working and a leader on the team with an edge of confidence that pushes everyone to be the best they can be."
Noticing Karr's performances in national competitions, scouts from colleges across the country started to closely observe her skills beginning in her freshman year. Little did she know as a 9th grader, she would be committing to one of those college teams in the near future.
Karr comments on the colleges interested in her, "Freshman year college tours started with the University of Minnesota and the University of Georgia. I've visited University of Missouri, Michigan, Denver, Arkansas, Nebraska, Kentucky, California, Berkeley, and Louisiana State."
With all the Big Ten colleges Karr could have chosen, she narrowed her choices down to Louisiana State University and the University of Denver, Colorado. After much consideration and touring both colleges, she came to a decision.
"LSU was big and I loved it there, but I chose Denver because the academics were at a higher ranking and it was overall a smaller school which I decided I liked better than a bigger school," Karr said.
By sophomore year, Karr was excited to announce her commitment to the University of Denver on a full-ride scholarship. Her hard work over the years had paid off.
"
It was a big weight lifted off my shoulders knowing I can now go out and do my best with not as much pressure, and if I have one bad meet, it's okay because the college knows overall what I'm capable of."
— Maddie Karr
Karr explained, "It was a big weight lifted off my shoulders knowing I can now go out and do my best with not as much pressure, and if I have one bad meet, it's okay because the college knows overall what I'm capable of."
During her last two years of high school, Karr will work to maintain her level of gymnastics, strength and health to be ready to compete at the collegiate level in 2016.
Karr's mom, Dana said, "I am most proud of Maddie's determination to work towards a goal despite challenges and failures, her ability to juggle her academics and training schedule with poise and her ability to push herself and her teammates to be the best they can be."
"The relationships built over the years with coaches and teammates, along with the rush of flying through the air and fear of landing skills, keeps me motivated to compete in the sport I love," Karr said.
About the Writer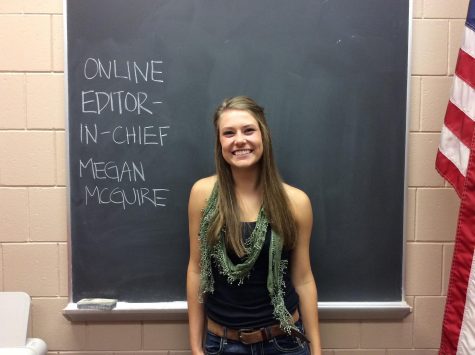 Megan McGuire, Online Editor-in-Chief
Megan McGuire is a 2016 graduate at Stillwater Area High School. She plays lacrosse and loves watching hockey. Enjoys fishing and anything dealing with...