Weight room now provides athletes current equipment and facility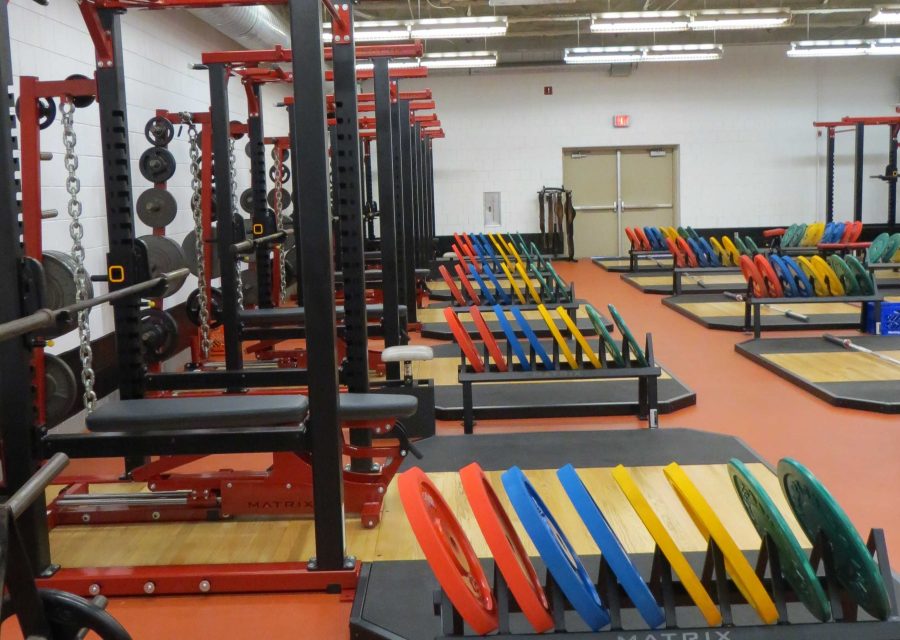 The weight room has a different look these days. New bench press, leg press systems and many other pieces of equipment all to help out our athletes and other weight lifters. Paid for mostly by boosters and fundraising, the new weight room equipment is helping athletes every day.
The weight room was installed in late August of this year, and has been used every day since. The coaches felt they needed to upgrade the weight room from what it was back in July.
The new equipment was part of a larger plan that is still in progress. This plan was put in place by Beau LaBore, social studies teacher and varsity football head coach, Mike Weiss, social studies teacher and assistant varsity football coach, along with the rest of the football coaches and other staff.
"We needed to identify what we wanted to keep, identify what we needed and wanted, and then we needed to find donations and fundraising to make it happen," said LaBore.
The best part about the new weight room is the efficient use of space. It is organized much differently, and there isn't as much clutter as there was before. There are also many more accessories added to the weight room. The types of things that are not necessarily used every day, but when athletes mix them into their workouts they are becoming a better athlete.
"It's nice. [The new equipment] is a great opportunity for younger kids to get an edge on other schools. It's very high quality equipment," said junior Matt Anderson.
Some of the new equipment, such as swivel bars, are used specifically used for power cleans, are an example of the things not used every day.
"We have a lot more accessories, small things that are not as important but are helpful," added LaBore.
A majority of the money came from the Ponies Touchdown Club, while other small parts were raised by sponsorship and other donations. The overall cost of the new equipment was around $103,000, but they made the vision a reality. All of the new equipment is helping athletes on the field, or in the gym, and helping the SAHS sports programs succeed.
"It's the best money can buy," explained LaBore. "We're not done yet but we're headed in the right direction."
Stillwater Area High School is providing the best equipment to help the athletes succeed.
Not all of the old equipment is gone, and the equipment that is gone has found a new home. Most of the old equipment went to Stillwater Junior High to help the younger athletes that will be at SAHS soon.