BTS, first Kpop artists to win top honor award at 2021 American Music Awards
"And the American Music Award goes to… BTS!". The crowd roars and cheers as RM, Jin, Suga, J-Hope, Jimin, V, and Jungkook stand up and embrace each other. BTS had won the top honor, the Artist of the Year Award, at the 2021 American Music Awards. The American Music Awards is the largest fan-voted music award show in the world and BTS just made history as the first Kpop act to ever win Artist of the Year.
About BTS and Kpop
BTS may currently be "one of the most popular Kpop groups, if not the most popular Kpop group of them all" according to Nevin Nguyen, sophomore and Kpop fan, but it has not always been that way.
Kpop in the west
Kpop is a relatively new genre of music to the mainstream music industry. The genre can be defined by three things: song/rap, dance and visuals. The Kpop recognized by people today has been around since the 1990's but its popularity was mostly confined to east Asia. The first taste of Kpop for many westerners was Psy and his global hit "Gangnam Style" in 2012. Before Psy, most westerners never even heard of Kpop. However, with the recent successes of BTS and others such as BLACKPINK, westerners have become more and more exposed to Kpop.
"I've just seen its rise to prominence over the past decade, which is pretty impressive," orchestra director Ryan Jensen said. "So I can recognize the significance of that, but I guess I really don't know a ton about it."
About BTS
Psy's "Gangnam Style" was significant in that it became the first Kpop song to break into the U.S. music industry but it was BTS who truly broke the cultural barrier. Despite their record-breaking popularity now, it was not always that way.
Before their debut, BTS' label, BigHit Entertainment(now renamed HYBE), was nearly bankrupt and BTS entered Kpop as scorned-upon underdogs. However, through their socially conscious lyricism, sincere fan interactions and promotion of a message of self love, they gradually amassed their extremely loyal fandom known as ARMY. ARMY is known to be one of the most powerful, influential and diverse music fandoms in the world.
"It's just so inclusive ," Madison Kyle, BTS ARMY member and BTS concert-goer, explained. "Not only with race but also with sexuality, gender and everything."
Because of the devotion of ARMY, BTS was able to rise the ranks of Kpop and they soon became the most popular artists in Asia. Soon after, BTS broke into the US music industry with their U.S. debut performance at the 2017 American Music Awards. They performed their single, "DNA" which shook the music industry to its core. From there, BTS' presence in the US music industry rose exponentially. In August of 2020, their first English song, "Dynamite", became the first song by a non-western artist to become #1 on the Billboard Hot 100 chart. A month later, they landed another Billboard Hot 100 #1 with "Life Goes On", the first song sung in predominantly in Korean to top the chart. BTS also became the first Kpop artist to ever be nominated for a Grammy award. They were nominated for "Best Pop Duo/Group Performance" at the 2021 Grammy Awards for "Dynamite".
2021 American Music Awards
During the 2021 American Music Awards, BTS was nominated for three awards: Favorite Pop Duo/Group, Favorite Song-Pop, and Artist of the Year. They were also set to perform twice during the show. Shortly after their in-person debut performance of "My Universe" with Coldplay, BTS won Favorite Pop Duo/Group. Later in the night, they won Favorite Song- Pop for their song of the summer, Billboard Hot 100 #1 single, "Butter".
Finally, it was time to announce who won Artist of the Year. BTS was up against the likes of Taylor Swift, The Weekend, Ariana Grande, Drake and Olivia Rodrigo. The anticipation in the room was deafening as presenter Liza Koshy walked on stage. As she announced BTS as the winners, the theater exploded into cheers as BTS members stood up in shock.
ARMYs all around the world were overjoyed to see BTS win their first major U.S. music award. Tonya Isarankura, friend of Kyle , member of ARMY and BTS concert-goer, described how she reacted when BTS won Artist of the Year; "I was screaming and crying. I had my IPad sitting in front of me and I hopped on the livestream right as they were announcing the nominees for Artist of the Year. And when they won, I was literally screaming by myself in my room. And I was cheering throughout the entire speech."
In their acceptance speeches, BTS leader RM recapped their American Music Award journey. "Four years ago, we gave our first time ever, live TV performance at this stage, at the AMAs. It was 'DNA'.  We were like too excited and nervous at the time and it's been a long and amazing ride since then. Nobody could have ever bet on the odds of us standing here receiving this award, except y'all ARMY".
BTS member Suga said something similar in Korean. "First had our American debut fours years ago at the AMAs, and we really didn't expect to win the Artist of the Year award like this. We think it's all thanks to ARMY. Thank you, ARMY!"
After their historic win, BTS closed the night with a smooth and high-energy performance of "Butter". Originally, they were set to perform the remix version with Megan Thee Stallion, but Megan had to pull out due to "unexpected personal matters". Despite the sudden drop-out, BTS still brought their signature style and energy to the stage. This was BTS' first time performing the song in front of a live audience since the single came out earlier this year in May.
The Impact of BTS's Win
BTS's historic win at the American Music Awards will surely reverberate throughout the mainstream music industry. Their win could potentially have have a profound effect on not only the future of themselves and Kpop, but for the U.S. music industry moving forward.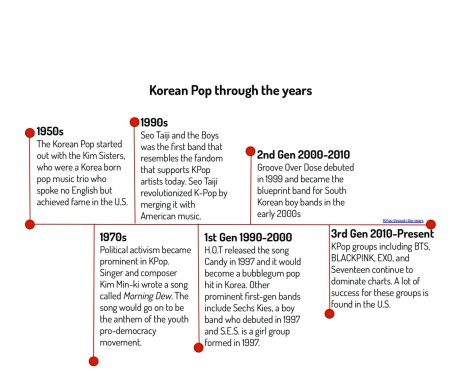 "Because of BTS and BLACKPINK, they've paved the way [for Kpop artists] outside of Korea and Asian media," Isarankura explained. "They can now go on late night shows and they can perform. So I think that has shown that there's a fan base for [Kpop] in the United States."
"I think it's a big deal for the acceptance [of Kpop in the U.S. music industry]," Kyle added. "And I know that this is the dream of a lot of Kpop artists to come to America and perform here."
Nguyen had similar thoughts about the expansion of Kpop. "[Kpop] is growing. I think it could also lead to more fans and more people knowing about them and how their presence kind of impacts this society or this generation."
BTS and the Grammy's
Despite the explosive growth of Kpop just in the past couple of years, there is still one major American music institution that has not jumped aboard the Kpop train. While the American Music Awards and the Billboard Music Awards have acknowledged BTS's and other Kpop acts' historic achievements, the Recording Academy has not. BTS is once again nominated for Best Pop Duo/Group for the 2022 Grammy's, but many were frustrated that they only received one nomination, despite submitting their record-breaking work into other categories. Many Kpop fans were already angry with last year's Grammy's for using BTS for viewership and for BTS loosing a Pop Duo/Group Grammy to a less successful chart-wise collaboration song.
"I think that [BTS] should have been nominated for many more categories. They put their stuff in for so many more categories and they only got one," Isarankura said. "I was already really salty with the last Grammy's because they lost Pop Duo/Group to people who aren't even a group together. I want them to get a Grammy [though] so I'm not gonna hate the Grammy's for that. But I do think that they deserve a lot more."
The future of the mainstream media
Despite not receiving any recognition by the Recording Academy, there has been an undeniable rise in Kpop's popularity in the mainstream media in the past decade. Kpop fans have been some of the first to sense a shift in the direction of the mainstream music industry. Historically, the industry was dominated by western acts such as the Beatles. However, with the rise in popularity of Latin Pop and Kpop in the U.S., it seems that western artist's dominance might be waning. Even non-Kpop fans are aware of the shift.
"I think (BTS's win at the AMAs) is awesome because it shows that we're kind of adopting more of a global culture of what music can be," Jensen explained. "Even thinking like ten years ago, it was very much American dominated and you didn't have the bleed over of Eastern culture. So I think that it's great. I think it shows that we as a culture are acknowledging that music genres have significance worldwide."