Mock trial goes to state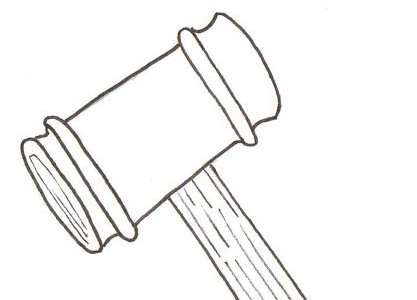 Making it to state in any activity, whether it is a sport or an academic competition, is usually seen as an accomplishment. Yet becoming good enough to make it there? That takes time, often in the form of years, to do. Making it to state in the first year of anything sounds absurd.  But that is exactly what the mock trial team did.
The mock trial team, which was founded this year by juniors Rachel Hartwig and Mitchel Sell, met multiple times a week with lawyers from the Eckberg & Lammers firm in Stillwater to perfect their case in this unique competition. The team gathered twice a week at the attorney's law office to work on opening and closing statements, testimonies and cross-examination. Throughout the season, their work paid off; they won most of their trials, including the ones necessary to make it to state.
The members of the team share two things in common. Other than mock trial, most were excited to go to state.
"When we first started, no one thought that we would go super far. We were putting ourselves out there," said junior Holly Fena, a plaintiff witness. "We started winning and didn't stop. I'm really excited [to go to state], but a little nervous about missing school."
Hartwig felt certain that she and the rest of the team was ready. She thought competitions prepared her the most.
"There is a certain element of being nervous, but after you get started, you're just more confident," said Hartwig. "I know what I want to say and what points I want to make. Being in a suit doesn't hurt either."
Most of the other teams that competed at state, including Northfield High School and Nova Academy, have had mock trial teams for over a decade and have been to state several times. Senior Amy Crea was not phased by that. To her, the Ponies stood a real chance.
"Given that we've made it this far, we've all decided that we're not going to walk to the finish- we're going to sprint. We're in it to win it," said Crea.
Lawyer Amanda Prutzman helped coach the team. Having experienced attorneys as coaches gave the team a leg up in many ways.
"I think it's really helped with objections and the rules of evidence," said Prutzman. "They have gained an understanding of what it's all for, not just going through the motions of court."
Having never been to state, Hartwig did not know what to expect, but she had hopes.
"If we continue what we're doing, I think we'll end up doing decent. I'm not expecting to win at state at all, but I hope we have some level of success," said Hartwig.
Prutzman was not sure how the team would do at state, but she had confidence in her students.
"We are very proud of them, their progress and their success," said Prutzman. "With each competition, their scores have gone up. We think they're going to make a great showing in state."
The state tournament was held in Duluth and ran March 11-12.