Labor shortage affects businesses, employees
Minnesota has been experiencing a major labor worker shortage due to the COVID-19 pandemic and businesses are scrambling to keep up. During COVID-19, many employees left their jobs for safety reasons and got laid off due to lack of income for the businesses during quarantine.
Now, dealing with repercussions from COVID-19, businesses have been short-staffed and hiring, which is not just affecting the employees, but also the customers and store. Stores have had to reduce hours being opened because they have simply have not had enough employees work. They have had to cut back on certain amenities offered such as making everything to go and closing dining rooms.
Junior Kyle Och has had to step up and help out new workers train and also do his own job because they do not have enough people to train people and for people to do the job. They have had to train people on the fly while working.
"Something I have had to deal with was learning how to do things quickly, more quickly than others. So that I can learn before and help other people out when they need help and become a team leader. So just becoming a bigger someone to look up to at work to answer questions and everything," Och said.
"
Becoming a bigger someone to look up to at work to answer questions and everything."
— Kyle Och
Since 2005, the number of job vacancies has doubled in every region of the state. When college students left their summer jobs to go to college, most businesses were not prepared and experienced a scramble for new employees. Employees now are having to work overtime and are being scheduled outside their availability. Senior Sam McClaine said with being scheduled so much with work and having to do school, she is feeling stressed.
"During the summer I worked numerous hours, about 40, and continued during the start of school. I worked 11 a.m.- 2 p.m. after school then went to cross country and worked 6 p.m. to closing (around 10 p.m.). Now it is around 30-35 hours a week and not seven days a week anymore, but working six to closing some nights and long shifts on the weekend," Och said.
In the 1990s, the average amount of new workers was 41,000, in 2020 there are about 7,500 new workers per year. With so many job openings, people have been looking for jobs with better benefits and higher pay. People have been coming more selective and businesses are feeling the need to increase salaries and provide more benefits to compete with other businesses.
There have been "now hiring" signs stringing across stores across the state. An associate at Panera Bread, Tee said she sees about 20-30 probably on her way to work each morning and Och said he does not remember seeing a store without a "now hiring," sign.
Staffing agencies have been frantically trying to fill vacant positions. Agencies have noticed people quitting their jobs without having another job lined up, knowing that there will be no problem finding a new job.
Tee who has been working there for three years at Panera Bread said that be aware that new employees are going to be asked to do a lot. It may seem like their not getting the appreciation they deserve, but down the road, they will be noticed.
View Comments (1)
About the Writer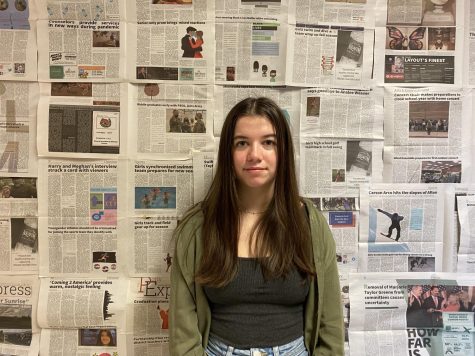 Charli Burdick-Kitchell, Graphic Editor and Copy Editor
I am Junior Charli Burdick-Kitchell and a graphic editor and copy editor. I work after school at Panera Bread and enjoy hanging out with friends and reading...