Choir students prepare for annual Choral Festival
"I'm just excited to be singing to people again. . . I like to hear people's applause and see their reactions to music," sophomore Michael Fredericks said.

Each year, choir members grades eight through twelve from Oak-Land Middle School, Stillwater Middle School and Stillwater Area High School get together to perform at the Choral Festival. This year, the concert took place on Nov. 4 at St. Andrew's Lutheran Church in Mahtomedi.

At the beginning of the year, choir directors Angela Mitchell and Katelyn Larson came together and chose songs for each of the choirs to perform at the Choral Festival. Every song was chosen to specifically fit each ensembles set of skills, but also challenge them in some way.

Larson explained that she tried "to choose pieces that are developmentally appropriate for the ensemble that is singing them," but at the same time are "musically gratifying" and the students will "enjoy singing."

The Stillwater Choir is the top audition choir. The choir is made up of bass, tenor, alto and soprano singers who were split into 8 different parts. Directed by Mitchell, they performed three songs that show off the students' technique and skill.

"One is 'Praise the Lord,' Chris Johnston, which is just sort of classic, choral literature for Minnesota. The second one is 'Lux Aurumque,' which is an Eric Whitacre piece and it's about light. And then the third is a piece by a young Canadian composer, Katerina Gimon, and it's called 'Fire.' It's just this very cool sort of piece with lots of different sounds," Mitchell explained. "It's intense and loud, and it's all gibberish," Fredericks added.

Belle Chanter is an advanced treble choir made up of tenth through twelfth-grade student singers. Made up of only women, the girls have to audition to get in. The ensemble is taught by Larson during third period. They performed two pieces at the Choral Festival, one called 'My Song' by David Childs and another called 'By the Rivers of Babylon.' The pieces go well together because they contrast with one another.

"

I'm just excited to be singing to people again. . . I like to hear peoples' applause and see their reactions to music."

— Michael Fredericks

"One of the pieces that Belle Chanter is singing is a beautiful, lyrical piece called 'My Song' by David Child. The other one that they're singing is called 'By the Rivers of Babylon,' which is a little bit more up-tempo," Larson said.

All ensembles performed a joint piece called 'Tres Cantos Nativos' by Marcos Leite'. This Brazilian folk song is composed of three songs sung by the Kurao Tribe. The tribe lives in forests in northern Brazil. On top of singing, this piece involves many percussion elements. This included snapping, patting and clapping.

"It's a great piece because it's rather simple to learn, especially for all of the different development levels that we have from eighth through twelfth grade, but it sounds really cool when it comes together. The students make rainforest sounds. So they do snapping and clapping and patting and sort of create this really neat thunderstorm effect in the performance," Larson said.

​

A big part of choir is memorization. With songs being anywhere from two to five minutes long, they can contain a lot of lyrics to memorize. Along with the lyrics comes pitch. Students have to make sure they sing each word with the correct pitch.

"I think at this point, it's just showing up to rehearsals and making that personal commitment to the ensemble and doing the best I can to help everyone," junior choir member Adam Long said.

While they prepared for the concert, directors had noticed the diverse range of skill and experience levels of the students. The COVID-19 pandemic is one of the main reasons why the students are at all different levels. Last year, some students would come into school while others stayed completely online. Larson and Mitchell, however, tried to make sure everyone has the same level of musical knowledge. The biggest challenge yet was helping the freshman prepare for the concert. In years past, the freshman would have done this in eighth grade, but due to COVID-19, they could not.

Larson explained that one of her biggest challenges was helping the ninth-grade singers through the concert. Many of them have not performed since the very beginning of their seventh-grade year. The singers have been taught how to perform once again and the overall concert was a huge learning experience for them.

While friends, family and other audience members took their seats, choir members prepared to go onstage. Many members did vocal warm-ups while others reviewed their music for the last time. Junior choir member Shayla Glaser took a moment of silence with her peers. They took time to reflect on why they are performing and why they are there at that moment.

"Right before we perform, we take a few minutes of silence to reflect individually," Glaser said.

In the end, the Choral Festival is an event where students come together and create beautiful music for everyone to enjoy.

"It's just going to be a big fun time," Long said.
Leave a Comment
About the Writer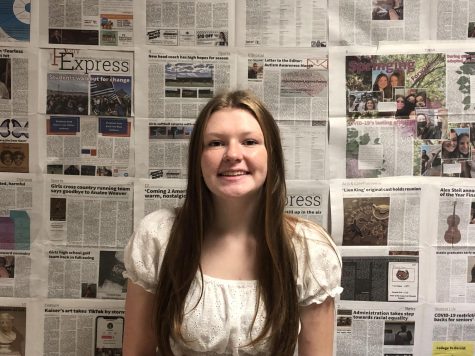 Ava Stein, Graphics Editor and Online Editor
My name is Ava Stein, I am a junior, and I am a graphics editor and online editor. I play the oboe in band and I am in technical theatre. In my free time,...