Ashlyn Aarness, Photographer

December 2, 2016

Filed under News, Read & Watch
Early morning and late, homework-filled nights. This is the life of a typical high school student. More and more schools are switching over to a later start time to increase productivity. Thought Exchange is changing the game for our district. Stillwater School District has had this discussion ...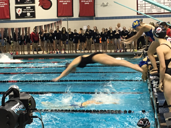 Noah Ness, Read and Watch Field Reporter

October 13, 2016

Filed under Fall Sports, Sports
When head coach Brian Luke and the rest of the Stillwater girls swim and dive team go into a duel conference meet, they are expected to win. This is not very surprising, given the success the team had over the past few years. With the team's victory over East Ridge at East Ridge High School on Sept. 22, their conference winning streak was extended to 115 consecutive meets. The Ponies (4-0 SEC,...