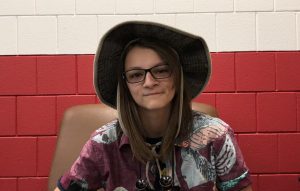 Traveling around our community in search of the right lead!
Hello Internet! I'm Taylor Lee, I'm a Distribution Reporter at The Pony Express this year. I am currently in my junior year. I participate in LINK crew and theatre productions. I'm an avid watcher of cartoons and YouTube and I'm my dogs' number one fan! I love tea and animals of all shapes and sizes.
I enjoy writing and have always been intrigued by the News. I'm looking forward to reporting on and learning more about the Stillwater community (since I haven't always been a part of it)! I'm also looking forward to doing online college next year and working at my job!
Taylor Lee, Distribution Reporter
May 04, 2019

Annual junior/senior prom "prom"ises greatness

(Story)

Mar 30, 2019

Fredkove gains medical experience traveling in Peru

(Story)

Mar 07, 2019

Prom dress Facebook groups necessary

(Story)

Feb 06, 2019

'Animal Farm' cast soon will take one act competition by storm

(Story)

Nov 26, 2018

Deaf event fosters appreciation for deaf culture

(Story)

Nov 08, 2018

Theatre department premiers 'The Man Who Came to Dinner'

(Story)

Sep 15, 2018

New cell phone policy decreases distraction in class

(Story)

Sep 10, 2018

Drevlow hunts for microadventures

(Story)