Harry and Meghan's controversial interview struck a cord with viewers
On March 7, an interview grasped the public's attention. The Royals were put on blast. During the interview between Meghan, Harry and Oprah, the couple revealed some unknown information. This interview showed that being seen through such seniority from everyone has its highs and lows. The community around those individuals is not true life. They are living the life everyone would want to live, but at the same time, no one wants to live. Meghan and Harry speaking out on such a topic is quite brave and the public deserves to know all that was released.
Meghan met Harry in London in 2016, through mutual friends. Before meeting, Meghan did not have much context on who he was. Just a couple of weeks after meeting, Harry asked Meghan on a trip to Africa with him. On Oct. 31, 2016, leaked information was out that they were dating. 
There was a lot of abuse and negative comments from the media towards Meghan at that time. Fast forward to their engagement on Nov. 27, 2017, and then May 6, 2019, when they welcomed their newborn Archie Harrison Mountbatten-Windsor home. But on March 7, 2021, their interview changed the public's thoughts.
When Meghan first met Harry, she knew almost nothing about him. The Royal family is a big part of the British tradition, and people are stating that Meghan was having the issues she did with the family because she was not aware of what it was all about. Meghan grew up in the states, while Harry grew up in the Royal family. 
"The part that surprised me the most, though, was that Meghan did little research on the Royal Family before marrying into it, so part of me feels like her feeling of surprise during various situations was due to a lack of being prepared when entering the monarchy," junior Ava Karlstad said.
In an effort to become independent, Buckingham Palace confirmed and finalized Meghan and Harry split from the Royal British family. They will not return as working members of the Royal family. The Duchess officially gave up their royal titles.
"For me, I think that they know what is best for their family," junior Jana Myers added.
Myers believes and feels that although this action did occur, what they chose for their family is best. Being a royal is a big job, especially for individuals who do not feel it is right for them. It is not believed to have meant any harm or negativity, they are just choosing what is right for not only them, but their family.
"
For me, I think that they know what is best for their family"
— Jana Myers
Throughout Meghan's pregnancy, she kept quiet. But during the interview, she revealed that she had suicidal thoughts and had asked the officials for help, but was not given any. Those officials felt it would ruin the reputation of not only Meghan, but the palace and the family.
She revealed, "I was ashamed to have to admit it to Harry. I knew that if I didn't say it, I would do it. I just didn't want to be alive anymore". 
"Mental health is such a serious matter that it is very disappointing to hear of situations when someone is considering suicide and people are unwilling to offer help because they want to preserve the 'perfect image' of the family," Karlstad said.
Not only is mental health a serious thing, but being pushed down for having those feelings can be really deteriorating. The Royals are people, and should be treated as such. One can do as much as they can to help their mental health, but it's not something that can always be easily treated. It seems as though the officials really took a chance. If Meghan would have taken her life, the reputation and image would have been made worse than just saying she needed help. 
The couple revealed that they got married three days before the ceremony at St. George's Chapel on Windsor Castle, on May 19, 2018. The Archbishop of Canterbury performed a ceremony just for the couple, prior to the Royal Wedding. In their backyard, vows were exchanged. 
Myers feels the "the main reason they said their vows three days before was so that it was more private."
Although it might not have been right to do it behind everyone's backs, they deserve to have at least some sort of privacy. The ceremony they had in their backyard, was private and only for the couple. Anyone in such high regard should still have those moments of love, not just press.
The family is held in high regard, and joining that without knowing what it is all about, would be difficult for most people. They are trying to create the perfect image, and not show anything besides that. That is why this interview was such a big moment for the Royal Family in history.
Meghan, Harry, and the family as a whole decided to do what was best for them. Focusing on this information, and moving forward with it is what they want. Instead of coming at it in a harmful way, we can appreciate the truth that was told to the world.
Junior Ava Karlstad:  "I appreciate their choice to put the stability of their family first."
About the Writer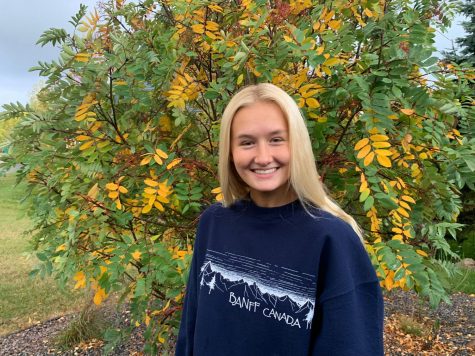 Annika Citsay, Distribution Reporter
My name is Annika Citsay and I am a junior Distribution Reporter for the Pony Express. I am involved in track during the spring. I love to hangout with...