Athletes continue to play while wearing masks
The global pandemic has had a heavy impact on the lives of student-athletes. Governor Tim Walz's mask mandate has made this year's sports teams go about their regular practices and games in unique ways. It has uncovered many difficult elements that may not have been thought about prior to COVID-19.
High school hockey players are required to wear their masks at all times, meaning during games and practice. On top of impacting the players breathing, this has also made the ability to communicate with their teammates and coaches a challenging task.
Sophomore Kylie Ligday said that it is "so important to be able to communicate with our teammates on the ice and hear instructions from our coaches. Wearing a mask is changing that for us."
It has also made it challenging for some hockey players to be able to execute their plays, and have clear visuals of what is happening on the ice. Many feel like this could be potentially threatening to the dynamics of the game.
"It changes our ability to see the puck and players at certain times. This could be dangerous if we don't see or hear the opposing team," Ligday said.
Wrestlers are only required to wear their masks when they are in contact with other teammates or athletes, but not during their actual matches. Nevertheless, it has taken a toll on their conditioning and has caused a somewhat lack of concentration.
"Masks have most definitely made it hard to breathe when we wrestle and hard to stay focused when there's a little thing on your face," senior and captain Roman Rogotzke said.
Like hockey players, the wrestlers have also noticed the effect that masks have had on their capacity to communicate. Some believe that it interferes with the directions they would usually receive from their coaches along with their ability to be able to cheer on and support their teammates.
"
We cannot communicate with our teammates or encourage them from the sidelines."
— Roman Rogotzke
"The masks definitely impact our matches and duals with teams because we cannot communicate with our teammates or encourage them from the sidelines," Rogotzke said.
Athletes in gymnastics have to wear their masks at all times except when the gymnast is on their event performing their skills. It has still shown parallels between wrestling and hockey in terms of communication.
Junior Erica Stanton said that wearing a mask "makes gymnastics hard when having to communicate with your coaches and when cheering for your teammates."
Many gymnasts believe that wearing masks has not totally interrupted their conditioning.
"When we condition we focus more on strength training rather than endurance. So wearing a mask doesn't cause any challenges. If we do endurance, breathing sometimes becomes difficult," Stanton said.
Overall masks have shown to be an adding factor of difficulty to teams' communication, concentration and conditioning. Still, athletes recognize their purpose.
"I really do think that if we are consistent with wearing masks, it is going to pay off. We just all need to keep our heads up and masks on," Ligday said.
About the Writer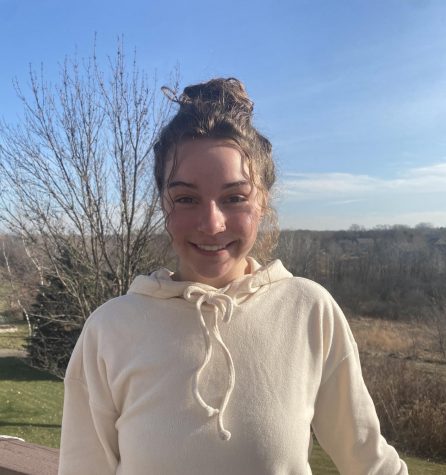 Libby Harter, Photography Editor
My name is Libby Harter and I am a junior. I am a photographer for the newspaper. I enjoy fishing and being outside, especially on water! I love dogs and...