Staff Ed: eLearning Days keep students learning during snow days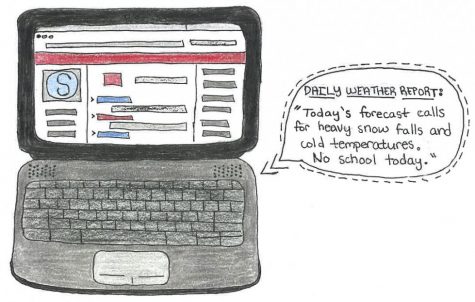 E-Learning or flex days will be implemented this school year. Students can do an assignment virtually on snow or cold days when they will not be in school. This is to prevent adding on days to the end of the school year when students would have to make up the school lost on snow days, and to keep students learning throughout the week. E-Days will benefit our district and have a positive impact this winter.  
E- learning days are put into place after the first two snow days. On e-days, teachers can upload a lesson plan or just send an email to students. The lesson can be done virtually from the student's home. E-days help to insure students get all the required school days needed throughout the year. 
In 2018, a law was passed giving districts the option to adopt e-learning days. After districts trying this out it had been proven successful, students say they are happy with the outcome. Students say after getting work done, they still had time for classic snow day activities. 
Many states in this region experience harsh winters. This leads to many days off due to the cold and snow. Last year, students had seven snow and cold days. Days off cause students to make them up after the school year. After the set dates of the school year, students do not want to make up days lost. It is much easier to give them an assignment to do the day of the snow day then to have them come in and make it up. 
Also having the online assignment will allow students to continue the lesson. This will keep students learning consistent throughout the week. It's easy for students to forget information they learned the day before in school causing confusion when coming back to class. These days will help students stay engaged over their day off and keep them learning. 
Further, e-learning days have proven successful in other districts such as Shakopee, where they implanted this last winter. Students explain why they like these days as students can do school work in the morning, but still have time to hang out with family and friends later in the day. 
Students may look forward to these days, understanding they will not have to come back for added on school days. Students also may not complete their work or understand it. E-days will have a positive impact this winter, giving students the best of both worlds.
Stillwater Pony Express