Carter makes a difference one dollar at a time
Spanish teacher Kirsten Carter began the club Dollars for Dreams three years ago to help people in other countries to escape the poverty cycle. She never imagined the impact it would have on not only her students, but all the people they have been able to help around the world. They recently reached a goal of $15,000 in microloans that have been funded by students and reloaned to impact others over and over again.
Dollars for Dreams uses a website called KIVA to find recipients to loan money to that will help them with things such as starting a business, sending their kids to school or buying materials to build a house for themselves. The recipients are then able to pay back the money, which gives the club the ability to re-loan the money to someone else in need.
Carter started this club to give students the chance to make a difference in the world.
"We watched a video someone recommended to us in 2016 and it was called 'Living on One' and after we watched it, we were inspired to do something because the video made it very possible for one person to make a difference, but also inspired the idea that when people get together how that difference can really make a change," Carter said.
Being a part of the club helps students understand how fortunate they are to have the opportunity to go to school and receive an education, something many kids take for granted.
"It is immensely important for students to help others because we are so fortunate here in Stillwater and while we may not always recognize that and the privileges we have, there are so many simple things we take for granted," senior co-president Peyton Classon said. "We are able to provide these things for people in other countries with just a click of a button."
The club grew fast at school and attracted many students looking to do more. It is a perfect way to give back to others that are less fortunate.
"I was just hoping the club would survive after the first year and the kids would keep participating in it. But we never expected to top $15,000 in three years," Carter explained.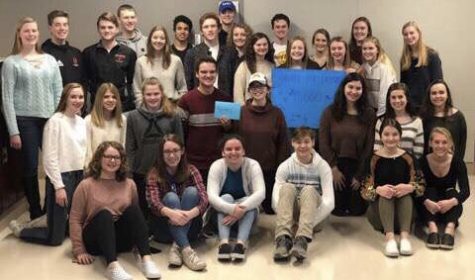 Having the ability to help others so easily allows anyone to join the club. There are so many simple ways to help others each and everyday.
"I love how simple it is and how we can choose who we are helping on KIVA," junior Rebeca Marquez added.
The club reached their goal of $15,000 in microloans much faster than they expected. They began their journey only three years ago and have helped so many.
"Reaching our goal in just three years was an incredible moment. About half of the money we have raised and put in ourselves but the other half is money that has been repaid and able to reloaned which is amazing to know that each dollar members bring it as meetings is able to make a difference over and over again," Classon said.
After recipients repay the loans they often send pictures or letters to show what they accomplished with the money and express their gratitude. It leaves an impact on students and opens their eyes to how only one dollar a month can go a long way.
"We can see how much we've been helping people because we see the progression of the loans," Marquez said.
Reaching their goal was no small task. Members of the club created a way to celebrate their achievement.
"We had a party and the club invited some of our original presidents back, which was absolutely incredible. In fact, when we made the final loan that day, we ended up doing three loans each for $300 and the first presidents were used to making a loan for about $50 one at a time so the shock on their face was priceless," Carter added.
There are presidents and officers within the club that help lead meetings and choose who to donate too. The other members get to vote who they want to help and participate in raising the money the club loans.
"As Co-President, I help run meetings, present loan recipient options at meetings, facilitate the microloans through KIVA and most importantly recruit new members and inform others of the issue of generational poverty around the world and how we are taking action as a club to solve it," Classon explained.
The club is hoping to expand to other schools. A prior president of Dollars for Dreams started a chapter at University of Wisconsin-Madison. Classon is hoping to take the club with her wherever she ends up for college.
Dollars for Dreams is one way students can help change the world one dollar at a time. After one goal is met, there is always more work to be done.