Andersen Principal Anna Wilcek porkers up to pig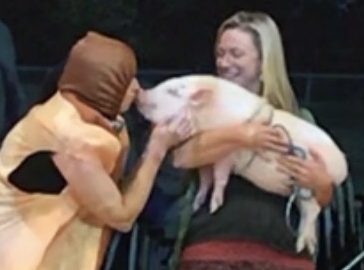 Most people only kiss other humans in their life, but then there a few people who can say they kissed a pig.  On Nov. 27, 2018, Andersen Elementary principal Anna Wilcek became a part of that small population.
Wilcek kissed a pig named Bilbo Bacon as a celebration for her students on a remarkable Diggy's Dash fundraiser.  The fundraiser included Andersen students getting pledges from family and friends to support the Andersen Parent Group.  The students also got to visit Barker's Alps in Bayport where members of the Andersen parent group have set up a running course and the kids run as many laps as they can during the time provided.
"There are awards for who can run the most laps," Wilcek said. "But along the way, there are fun activities to do from hula hoop relays to hurdling hay bales."
The goal of the fundraiser, apart from having fun, was to earn $10,000.  Unfortunately, the students came in a little short of that goal.  Even though they were a little short, Wilcek decided that all their hard work should not go to waste.
"For all the laps that they were running up at Barker's Alps to help our school, I figured the least I could do was pucker up for the pig," Wilcek said.
"
No one should have to go through life without getting the opportunity to kiss a pig."
— Anna Wilcek
The event was sponsored by Kari's Paint and Create studio, a painter on pottery in Canvas studio.  The owner, Kari Patsy, is also the supplier of the pig.
"He [the pig] was flown in from Montana," Patsy said.  "I bought him thinking he was going to be the mascot of the studio.  But he's taken a liking to eating pottery."
Kari's Paint and Create Studio, located in downtown Stillwater, has sponsored a lot of events, including the St. Croix Prep Art Gala.  The business has also done programs for Stillwater schools.
"We do community ed, and like, slice programs in the summer," Patsy said.
The money from the fundraiser will go to the Andersen Parent Group.  The Andersen Parent Group uses that money to put on cool activities such as a Glow Party at the end of December.  The parent group also brings the money back to the teachers.
"The parent group uses that money to sponsor teacher grants," Wilcek said. "They are grants that go directly back to the teachers so teachers can buy books and materials for their students in their classes."
Even though pigs are stereotyped as gross and dirty, Wilcek said, "No one should have to go through life without getting the opportunity to kiss a pig."
About the Contributor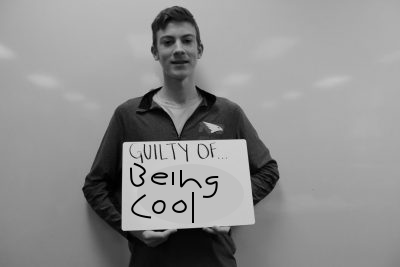 John Franklin, Copy Editor-in-Chief
Hello! My name is John Franklin, I am a senior and I am the head copy editor-in-chief for the Pony Express.  Other than working on the Pony Express, I...