Brine's Market and Deli celebrates 60th anniversary
Brine's Market and Deli recently celebrated their 60th year in business. Brine's was originally opened in 1958 by Bud Brine in downtown Stillwater. It has been a staple of the St. Croix Valley ever since. Now, Brine's is co-owned by siblings Polly Hoy, Matt Brine, and Mark Brine.
Brine's celebrated their anniversary on the week of Oct. 22, by holding raffles in the store for meat smokers as well as having a 60 cent, old-fashioned, skin on hotdog lunch special all week long.
Starting from humble roots, Matt explained, "[It started] In a very small meat market that had been closed up for about a year. Started there, worked well, so then dad expanded in the 70s to 219 Main Street South, which gave us a lot of options, meaning the main floor was larger, we had a full basement and then we could expand into the restaurant and the bar on the second and third floor."
The business was a whole family affair, meaning that they spent countless hours working there as kids. They would make malts and ice cream, sell candy, and help out with butchering the meat too.
Mark recalled, "I started when I was like 10 or 12. We would stand on milk crates so we could reach the grinder and skin deer that's what we did so yea we started pretty young and that's kind of where my family hung out so we spend more time usually at work than at home."
The original location was a traditional meat market that served locals throughout the years and outlasted all other meat markets in the area. This was turned into the Brine's bar and restaurant.
Matt continued, "Then times had changed downtown. It was getting more difficult for people to go downtown to shop for just a quick item because of parking and congestion, so that's when we made the move up here and I suppose that's pushing 30 years now and that's worked out well for us. We weren't for sure on how it was going to work at first, but it worked out."
The new market worked out so well that managing both businesses became a task too big to handle for the entire family. Earlier this year, they decided to put the bar up for sale.
Polly said, "[I] pretty much grew up in that location. It was definitely bittersweet, you know, sad to see it go. Downtown has definitely changed over the years. Running a bar business isn't necessarily easy, late nights, weekends, and the market has become so busy up here that we just wanted to focus on up here, but definitely sad to see the building and all the history that we had down there, see that go."
"
We like the size we are that we can still keep it family run, family owned, and keep our quality of products good and still have control and keep things the way we like it. I think we're pretty happy with how we are right now."
— Polly Hoy
Brine's was a major part of the community that had gained plenty of repeat customers. It was the best in town and nothing was slowing it down.
Mark explained, "I've always said we survived fires, floods and franchises and all other businesses that are coming to town. And then we had a couple floods in the place, flooding out the basement and then in '82 we had a fire were a couple firemen perished during the fire so that was a hard one. My dad didn't know if he wanted to rebuild after that."
The decision was left up to Mark and his brother Monty. They ultimately decided to continue the family legacy through the restaurant. Now their small business is still going strong. A recent renovation of the current Brine's location, as well as an updated website and logo,  shows that they have no intention of being done anytime soon.
Polly explained, "We like the size we are that we can still keep it family run, family owned, and keep our quality of products good and still have control and keep things the way we like it. I think we're pretty happy with how we are right now."
Having a small, family run business is important to the Brine's, but they also need to be on top of trends so that they can stay competitive with other markets around the area. What makes Brine's unique is their weekly sales ad that showcases all of the special food items for that week, creatively placed on top of an eye-catching background of the original "Brine's butcher."
Mark said, "People think it's funny that we watched the weather a lot but that really influences what we do during the week or day to day, like in the summers it's really great weather and it's steaks and brats,  and in the winter when there is a blizzard coming and they're predicting a lot of snow we will get rushed that day before for stew meat and chili meat, pot roast, all this kind of homemade stuff you want to hunker down and cook, so seasonal and weather really dictates what moves."
Brine's continues to be a great option for meats and deli items that has been going strong for 60 years and has made a significant impact on the community.
Matt explains, "I just think that we've developed a relationship with the town. Community Involvement we've gotten, we've seen so many families and students, that have grown up, you know. I've had employees that I had 30 years ago downtown that are coming in now with their kids and they graduated from college and they're married and they appreciated what we taught them at that time of their life. You know, that it helped them develop into who they are."
Polly concluded, "We're still in business, still family run, and going strong. Hope to have another good run and a lot of more years to keep going."
About the Contributor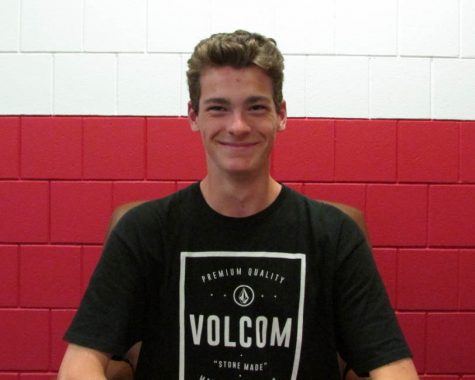 Jameson Stahl, Editor-in-Chief
Jameson Stahl is an Online Editor-in-Chief for the Pony Express newspaper. Outside of school he plays lacrosse for the high school and for the Minnesota...