Staff Editorial: Paying for Pony Activity Center generates pushback
This year, Stillwater Area High school opened its new multi-million dollar athletic facility, known as the Pony Activity Center (PAC).  The new facilities – which include an indoor track, weight rooms, gymnastics and basketball gyms – had teams and individual athletes excited.  It's not hard to see why students were shocked when they were told they had to pay to use all of the school's shiny new equipment.
In order to use the PAC, students are charged $10 for a one month membership or $3 a day.  However, students who can not afford the fee are given leniency similar to in the lunch program.
Community members can also purchase membership for a slightly higher price.  Recently, students have created a petition to lift the membership fee for students and make the PAC free for students to use.

Loading ...
This policy of charging for entry to the PAC is both ridiculous and harmful to the school.  If students want to better themselves, then the administration should let them be examples of how great SAHS is.  It's no secret that public schools have been pushing healthy lifestyles heavily for the past decade.  From healthier foods in vending machines to better cafeteria food to simply charging students extra who don't take fruits and vegetables, eating healthy has become a priority for the Stillwater school district.
With this in mind, it makes no sense that it should be harder for students to access the workout equipment that they need to pursue this healthy lifestyle. Obviously eating healthier and working out are two of the most important ways to stay healthy. If students want to work out, they should be welcomed and encouraged to go to the PAC, not forced to pay an entry fee.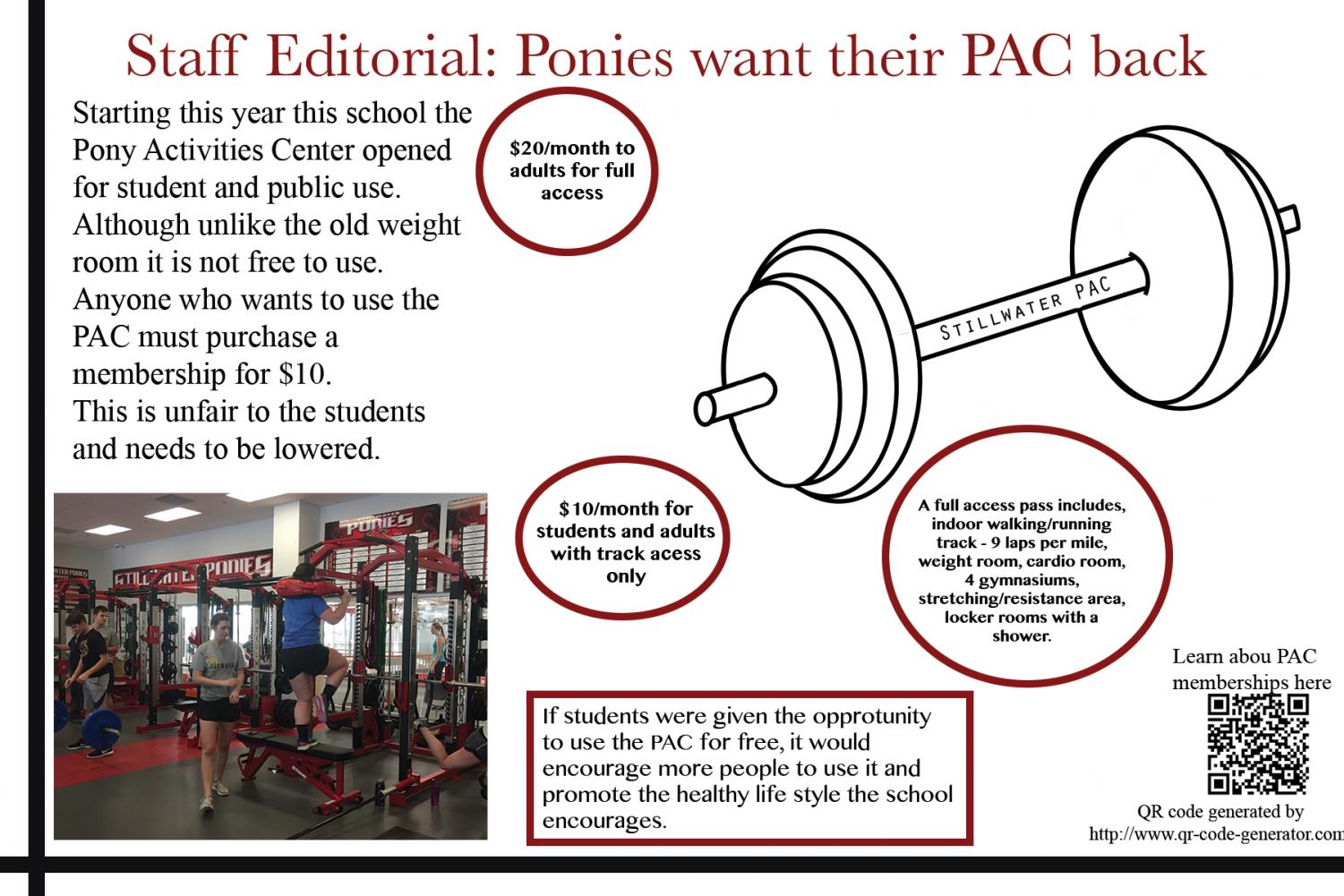 It is worth noting that the administration had its reasons for charging students to use the PAC.  Anyone who uses the PAC are a liability, so to keep everyone safe community education pays two supervisors, for only two hours a day, to keep an eye on things.
It makes sense that students' safety should be important.  It doesn't make sense that students have to pay for it.  Students don't have to chip in to help pay the security guards.  Both the security guards and the supervisors at the PAC are part of the school's everyday function, it is up to the school to find, somewhere in its budget, the money to pay this relatively small price next to the small fortune that was payed to build the four gyms, over 7,000 square feet of weightlifting room, and much more that makes up the PAC itself.
No student should be restricted access to any part of SAHS or any public school.  Public schools exist so that students to have free access to what they need to get a head start in life.  Thus, if SAHS truly cares about the health and wellbeing of its students, it needs to open up the PAC for free and unlimited use for all students.