Suburb offers students more dining options
Though Stillwater has an abundance of places to shop and eat, students often look forward to checking out new places and having more options. A common place for students to explore different restaurants or stores is Woodbury. Not only is there an outdoor mall, but Woodbury also offers a collection of places to eat and activities to do. When looking for something to do outside of Stillwater, Woodbury's convenient location and accessibility make it a popular destination for students.
New to the East side of Woodbury is CityPlace. It is a 100-acre site that  houses businesses that range from retail to restaurants. Student-favorites like Qdoba and Potbelly have been added and continue to make Woodbury the hotspot for new and diverse hang out spots. Retail spots like Sur la Table are close to opening, and across the road  sits Piada, Einstein Bro's Bagels, Caribou Coffee and Café Zupa's.
Junior Maggie Jones said, "I love to go to Trader Joe's and some of my favorite restaurants in Woodbury are Five Guys, India Palace, and Punch. It's nice because it's so close to home."
"
It's [Woodbury] super easy to get to and I always have a fun time when I go there. There's always something to do."
— Sami Chang
A big trend that has appeared in the past year is bubble tea. Students will often make the trip to Sencha Tea Bar on Radio Drive to order drinks like taro coconut shake with lychee- a unique and delicious drink.
"I like Sencha because it's unique and has so many options to choose from. I love going with my friends and making a day of it," sophomore Sami Chang said.
Woodbury is also a popular shopping destination. At Woodbury Lakes, stores like H&M, American Eagle, PacSun and Primp can be found outside. Nearby, is Dick's Sporting Goods, Ulta and several other places to shop.
Junior Madi Shaffer said, "My favorite places to go are PacSun and Victoria's Secret. I kind of have a shopping problem and Woodbury is the best and closest place for me to go whenever I feel like spending some money."
With the addition of CityPlace, even more restaurants and shops have opened, and they provide an even larger selection of things to do.
"I love Qdoba and I'm super excited to finally go and eat there. I'm glad that they've opened so many more places to eat because Woodbury is on my way home from school," junior Maggie Raedeke said.
Whether looking to eat, shop, workout or simply enjoy a day with friends, Woodbury provides options for everyone and being less than a 25 minute car ride away, it is a popular place for all students to go.
Chang said, "It's [Woodbury] super easy to get to and I always have a fun time when I go there. There's always something to do."
About the Writer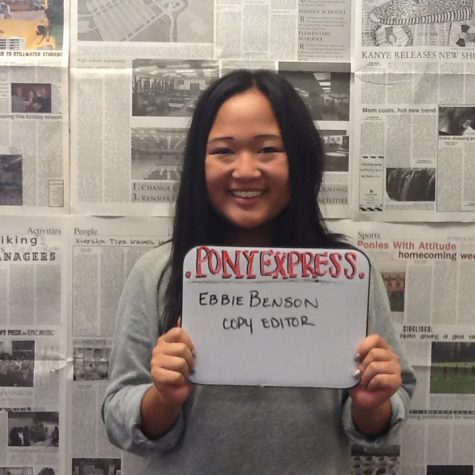 Ebbie Benson, Copy Editor
Ebbie Benson likes to travel with her family and spend time with her friends. She is a part of the Alpine Skiing and Lacrosse teams and loves competing...